Day 1 - Copper Mtn
What a great day! Hardly a cloud in the sky made for an excellent day of skiing at Copper Mtn. Copper is absolutely huge compared to eastern resorts. Multiple high speed lifts, bowls, great cruising, bumps, above treeline slopes, you name it...Copper has it.
We started the day at the American Eagle high speed quad shown below...a 1500' vertical lift which serves a variety of cruising terrain.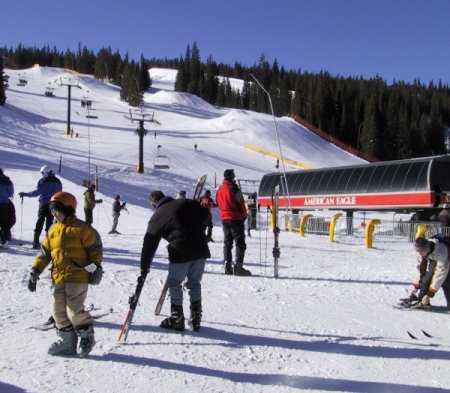 After this lift, we rode another HSQ, then took a run up the summit poma...to almost 12,000 feet in elevation! This poma served two slopes with perfect snow...the run of the day. Here's Jeremy on the summit poma..check out the view!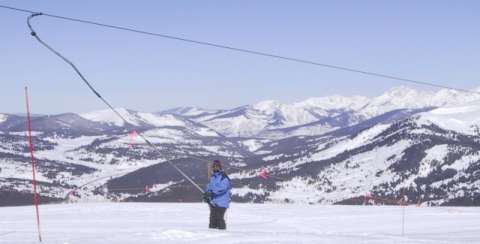 We then rode the Super Bee 6 passenger detachable....a 2300' vertical lift which served some steeper terrain. We found a great, very steep but groomed trail that led to a Yan double with no safety bar...that would be illegal in the East!
We basically explored the rest of the mountain during the remainder of the day...riding most lifts and enjoying the scenery.
The base lodge of Copper was particularly nice...spacious, clean, and modern...with an escalator between floors!
Head back to the Colorado Trip page