Crotched Mountain Plans
Crotched Mountain, NH last operated during the winter of 1989/1990. At that time, it was two interconnected ski resorts. The eastern mountain was the original, and had a double chair, two t-bars, and a pony lift. It was connected by two beginner trails to another resort, which was formerly named Onset, then Bobcat. This western resort is what will reopen.
The western area, when it closed, had two Hall double chairs, a CTEC fixed grip quad, a Hall Summit T-bar (installed around 1987, of all things), and a short pony lift. The area sported 18 trails, covering all abilities. Several condominium units were built near the West Double Chair. Here's a view of the area during the late 1980's, courtesy Dave Kulis.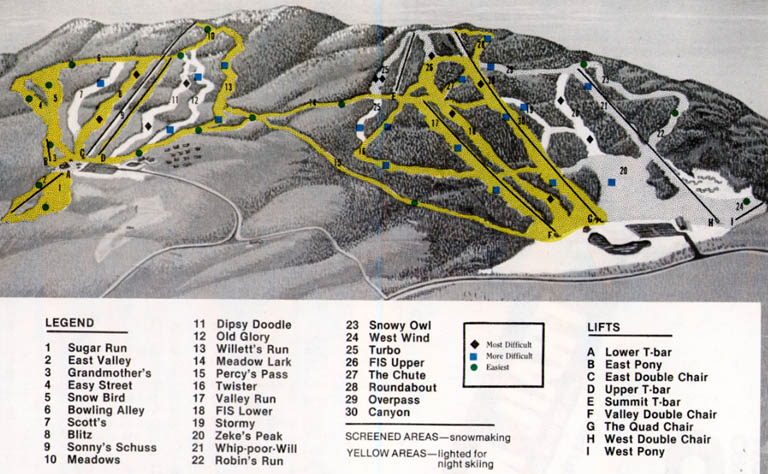 The area lay dormant for a few years, as plans were drawn up to reopen the shuttered resort. Nothing happened. After a few years, the fixed grip quad was yanked out and sold to Jiminy Peak as their Q1 quad. Otherwise, not much was done to the area. Lifts rusted, vandals damaged the base buildings, and trees took over the slopes.

It would continue to grown in until 2000, when Terry Schnare and Donald Hardwick bought the ski area land. They entered into an agreement with Peak Resorts of St. Louis, Missouri, during the summer of 2002 to reopen the area. Peak Resorts operates several ski areas in the Midwest, where weather is difficult. They have succeeded in the "banana belt" ski region by developing state of the art technology.

Work on the resort commenced in late July, 2002. Trees are being cleared from the overgrown slopes as of August 8, 2002. This is only the beginning of what should be a great recovery of the area.


A view of the area from space, late 1990's.
But what exactly will Peak Resorts do at Crotched?
Essentially, due to the deterioration of facilities, almost everything must be rebuilt from scratch. The base lodge has been vandalized and has major damage, and will be torn down or burned. A brand new one will be built in its place. A new snowmaking pond will also be built, with the old one being filled in.
However, the most exciting improvements are going to be made on the mountain. When Crotched reopens, it will be in far better shape than at any time in its life. Here are the highlights of the plan, and Peak Resorts plan for the mountain. Be advised that these are preliminary, and may change.
1. The valley double chair (far left) will be removed. A fixed grip Riblet quad, from the former Ski Cherokee, VA ski area, will be installed in its place, just to the left of the former lift line.

2. The summit T-bar will be torn down and removed. The former liftline will likely become a trail.

3. A fixed grip Riblet quad from Ski Cherokee will be installed up the Canyon Trail, just left of the former quad.

4. A fixed grip Riblet triple from Ski Cherokee will be installed up Lower Zeke's Peak (just right of #14 in this map). This will be a short, beginner double, and will also serve a terrain park. Lower Zeke's Peak is an excellent slope for this purpose.

5. The West Double chair will be refurbished, and a midstation will likely be added. There are some excellent beginner slopes served by that chair.

6. Some trails will be wider, with the fall line worked out on others. Glades are expected to be added.
Peak Resorts is big on snowmaking. They plan on keeping 100% of the mountain open (or as much as possible) during the winter season. They have developed snowmaking techniques that work well in marginal temperatures.
Crotched will also have night skiing, and some nights during the winter they plan on skiing 24 hours! That would be cool, skiing at 230am!
They do not plan on any real estate at all.
We'll update this page if plans change.