Mt. Whittier Ski Area
West Ossipee, NH
Before 1949 - 1985
New evidence has been found that Mt. Whittier was open a lot earlier than previously thought. From the book "Where to Ski", provided to NELSAP by Wayne Silver, we have just found a listing for Mt. Whittier in 1949. In that year, three rope tows operated, of lengths 1200, 1000, and 300 feet. The 1200 foot tow served intermediate and expert trails 1000 feet long, a 400 foot novice slope and 2000' open slope for all classes. A new slope was cut in 1949, served by the 1000 foot tow which connects to the then existing slopes and trails.
As to what happened in the 1950's, I'm not sure. The area may have closed or remained opened. It was generally believed that Whittier had opened in the early 60's, leading me to believe that it had closed for a few years. Nevertheless, the area went under signficant expansions in the early 1960's.
Mt. Whittier, in West Ossipee, New Hampshire, was truly a unique area. It was one of the very few ski areas in the entire country to operate with with only a gondola and surface lifts when it expanded during the first half of the 1960's. No chairlift was ever installed! The area had two base areas-the gondola station (used mainly for summer activities) and the main lodge located about half a mile away. The gondola crosses the main road in West Ossipee, so it is impossible for skiers to ski to the gondola base. At the summit gondola station skiers could dine in an enclosed snack bar and take sight of the gorgeous views in all directions. From the top 3 main slopes cascaded down, with the option of skiing the main base lodge or riding back up one of the three T-bars. This was all during Mt. Whittier's heyday.



The trail map during the 1970's, Whittier's Heyday.
(Trail map courtesy Brian O'Malley)
During the latter 1970's and into early 1980's, the total lift count decreased as old T-bars wore out, were closed and removed. Its final years of operations saw only 1 T-bar, a few rope tows, and the gondola still in operation. During the mid 80's the area was being surpassed by larger mountains nearby and the rapidly expanding resort town of North Conway. The area soon closed, although the gondola continue for several years as tourist skyride. A waterpark was located near the main lodge, but that too did not last long.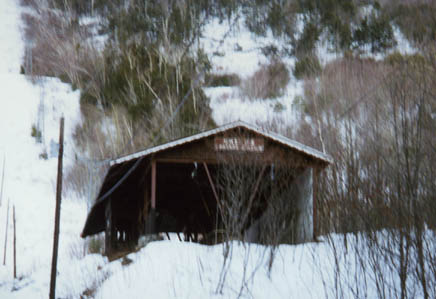 Skier's unloading station. Gondola cars would unload here and then re-attach on their way to the summit.
The gondola passed over Rte. 16. Picture shows McD's and the tower, lift line to summit.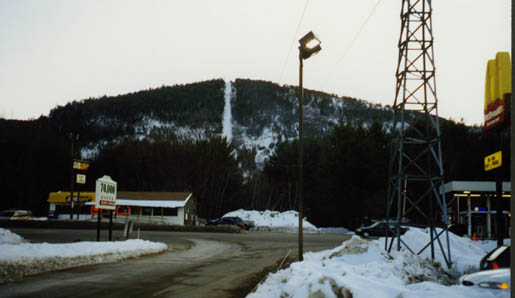 The "Snowmaster" has helped us out with a few more details about this area. Here they are:
I spent a day at Whittier in the fall of '94. I hiked the mountain and got nosy with people in the area.
There is a straight (no line curve) detaching station just where there starts to be some slope to the hill. This is a ways into the woods though. There are no bulls. The line is continuous. All trails not going to the t-bar base converged here. I believe (memory of friends is sketchy) that there was a crossover from this point to the base lodge.
At the summit gondola station skiers could dine in an enclosed snack bar and take sight of the gorgeous views in all directions. Views are impressive. The structure still stands but is very run down. There is decomposing food in the refrigerator, and it appears that bears have pawed through it. There is a gaping hole under the bullwheel where the cement floor used to be, but the line gear is undamaged. There is also an ancient piston bully parked nearby. The gondola, BTW, was four person in the summer, three in the winter, and for at least a few seasons, your skis came in with you. It was manufactured by Gerhard Mueller, the canadian manufacturer who we all thought made only chairlifts. That's why the cabling are so unique. It's possible, but unlikely for the time that someone else made the line gear. The detaching was non automatic; the cars had to be pushed around on a metal track like Wildcat's. (can we tell I'm a lift nut?)
Incidentally, late in their operation, several trails and one lower mountain t-bar were added to the south side. Most of the parts are in good condition. Factors to site for closure: very little terrain that wasn't steep as all hell, or more precisely, no top to bottom route that did not require a steep as all hell pitch as part of the descent. A biggie: no snowmaking, ever.
The following are sources and a photo gallery for Mount Whittier.
1964
(Eastern Ski Map)
Lifts: Gondola, 3 T-bars, rope tow.
3 slopes, 2 trails. Novice, intermediate, expert.
2 packers.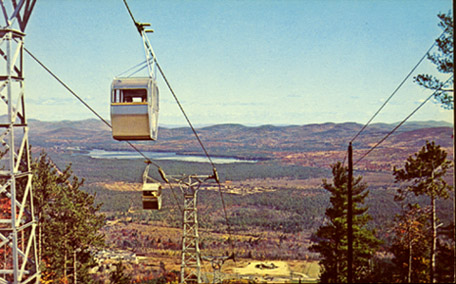 Here's a very early picture of the gondola at Whittier during the fall season.
The cars were not painted yet.
1966
(America's Ski Guide)
Lifts: Gondola, T-bars, Tow.
Vertical: 1650'
1968
(From a listing of unknown origin)
Base Elevation: 400 feet
Vertical Drop: 1600 feet (50 feet truncated off from the previous...hmmm)
Exposure: Northeast
Operates: Daily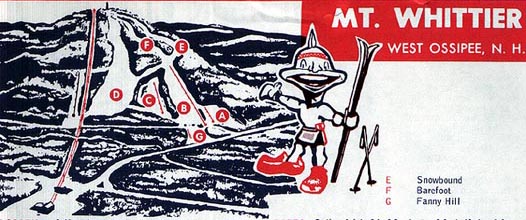 Trail Guide (above)
A-Hobbs Slope (novice-intermediate), B-Whittier Slope (intermediate-expert), C-Bear Camp Slope (intermediate), D-Sundown (intermediate-expert), E-Snowbound (intermediate), F-Barefoot (intermediate), G-Fanny Hill (beginner)
Lifts: 7 total, 1 gondola (6300'), 3 T-bars (2100', 1700', 1400'), 3 novice rope tows (500' each). 2 Rope tows were added from 1964 to 1968.
Rates: Daily--Adults $6.00, Junior $4.00, half day $4.00
T-bars and tows only: $5.00 all day, $3.00 half day

Tows only: $2.50, half day $2.00
Children under 15, $3.00 all day
Features: Family ski area. Base lodge with restaurant. Snack bar at summit. Carroll Reed ski shop-quality famous brand name boots, skis, clothing, accessories, repairs, rentals, ski maintenance, trade ins.
Old phone # 603-539-4558
Manage: Frank Whipple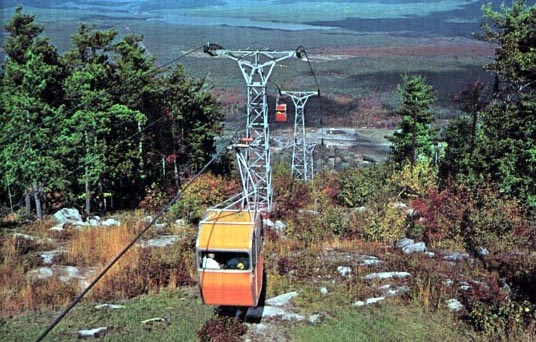 Near the summit of Mt. Whittier. Notice the somewhat odd shaped gondola cars. Picture is from sometime in the late 60's/early 70's. (Thanks Dave Hilton for the pic!)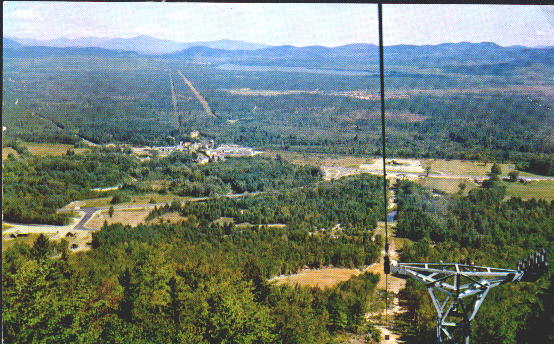 The view from the summer, showing the same lift tower as above. Photo courtesy of Dave Hilton.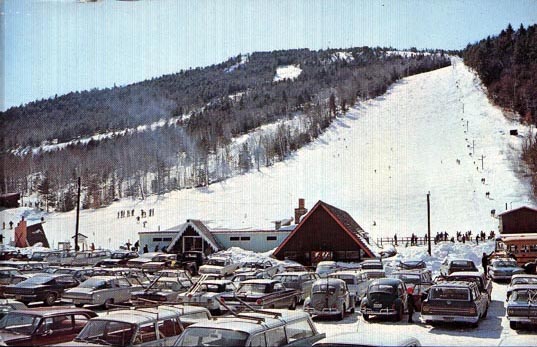 The main base lodge of Mt. Whittier. The T-bar slope is on the right. Bear Camp Slope is to the left of the main T-bar slope. (Thanks Dave again for the pic!)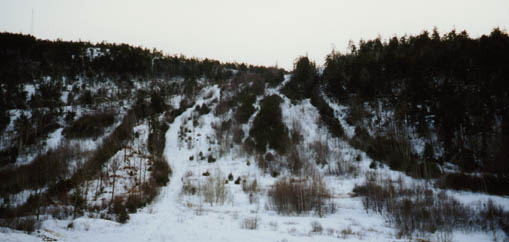 The same view of the slope today, horribly disfigured.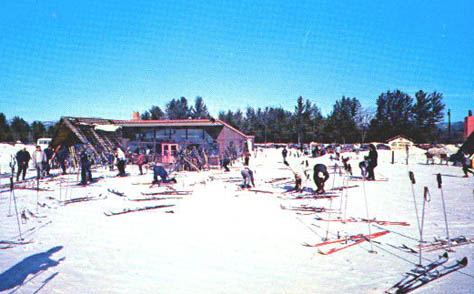 Skiers at the base lodge, 1960's.
1969
(Eastern Ski Map)
Gondola lift, 3 T-bars, 3 tows, 5 slopes, 4 trails, 2 packers.
Here's their ad in that map:


1973
(Ski Guide to the Northeast)
Base elevation: 700 feet
Vertical drop: 1400 feet (every listing keeps shrinking the vertical drop)
Exposure: Northeast
Features: Area operates daily, ski shop, snack bar, rentals, warming huts, 6 lifts (1 tramway, 3 T-bars, 2 rope tows) with 4700 per hour capacity, 8 trails parking for 500 cars. No snowmaking or night skiing.
Rates: Adult-Weekday, $7.00 day, $5.00 halfday, $6.00 T-bars and rope tows only, $3.00 rope tows only. Juniors-Weekday, $5.00 day, $4.00 halfday. Season passes: 1st person $100.00, 2nd $50.00, 3rd $25.00. Special housewife and executive groups, Tues and Thurs, 6 lessons, $15.00
1987
(Eastern Ski Map)
A listing in the 1987 edition of the Eastern Skimap suggests that the area was still open, but I believe it had closed a few years before this, about 1984. Apparently, the area had shrunk. Its' statistics now included:
Lifts: 1 Tramway, 1 T-bar (the one on the far right up Whittier Slope), the novice tows.
6 trails/4 slopes
Packers, Ski school, ski patrol
1100 Vertical drop (down another 300-where did it go? Does this mountain keep shrinking or did someone have a problem measuring?)
1994
(Personal Visit)
The author standing next to one of the old gondola cars at Tramway artisans. Feb 1999.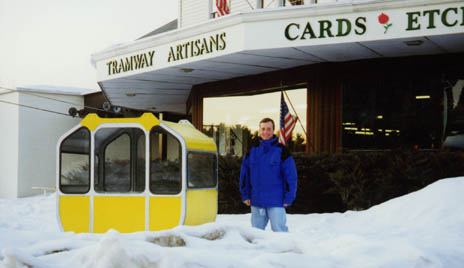 The old rope tow towers, Feb 1999.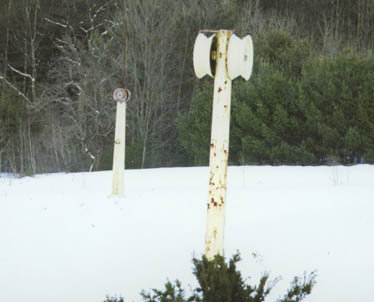 The base lodge, all posted and looking worn out. Massive addition since the 1960's.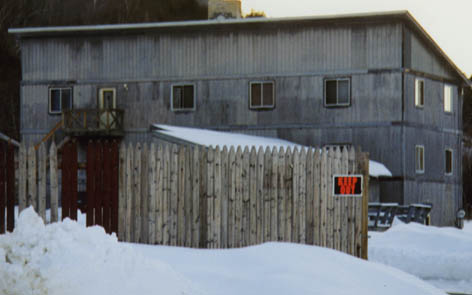 Inside the Tramway Artisans gondola base. The owner was kind enough for me to take photos inside. This is one of the old gondolas.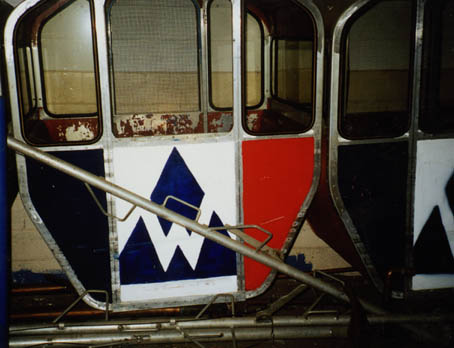 The old bullwheel inside the gondola base.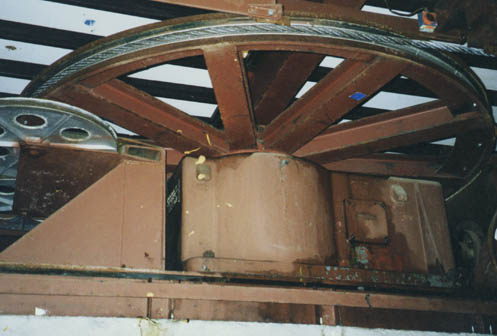 More gondolas inside.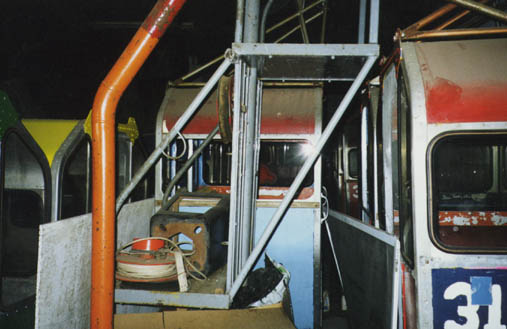 Head back to Lost NH Ski Areas