I visited Mt. Storm on 9/13/03 and met Steve Herman, the son of the owners. Steve's parents bought the ski area in 1975, at a time when it was not operating. The area had been in operation since the 1950's. The Herman's reopened and operated the area until 1987 when the lodge burned due to arson. Steve's brother died in the fire. The arsonist was never found and the insurance was never collected. Due to the high cost of insurance and renovations needed, the area remains closed today.

The area has 3 main slopes with interconnecting trails. It sits on 52 acres which they still own. The ski area faces north, so it holds the snow longer. It is 240' vertical feet.


When the Herman's operated the area Steve used to manage and maintain it. He also used to make snow. They had a 50HP electric pump and 7 snow making guns giving an output of 2000 CFM. Steve installed $3000 in Metal Halide lights for night skiing which were only used for two years until it closed. You can see the area from the highway and everyone thought it looked beautiful at night when the lights were on and they were making snow. Steve still keeps the grass mowed on the slope.


Mt. Storm has a T-Bar which is still fully intact with its T's on. A Borvig double chairlift was installed to access new terrain which had not been lift serviced. The lift was hardly used (if at all) and it was later sold to another ski area out of state, possibly in Maine. The lifts were 480 volts and 3 transformers were used to power the area. A Mighty Mite handle tow was sold to Thunder Ridge, where it still operates today. Rope tows and towers from an old Poma lift also still remain. The Appalachian Trail was moved from nearby to cross over the top of Mt. Storm.

Area Statistics: According to a White Book listing Mt. Storm had a 600 ft. vertical drop and was served by 1 chair, 1 t-bar and 2 tows. It was open 7 days a week and had night skiing on Friday and Saturday. Instruction was available and the area had snowmaking.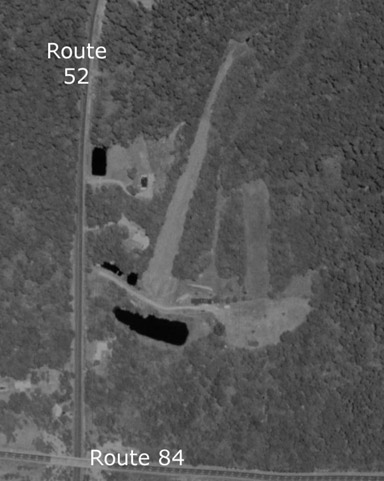 An aerial view of the ski area, just off Route 84.