First Annual NELSAP Picnic
Mt. Agamenticus, Maine
August 14, 2000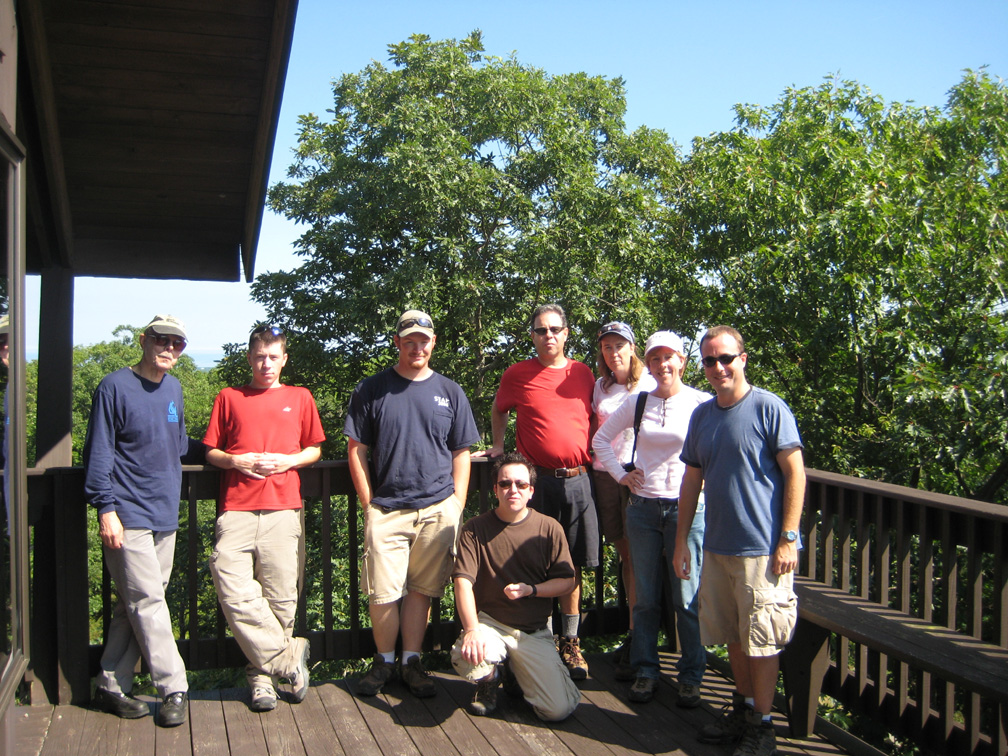 Several NELSAP enthusiasts enjoying the fist annual picnic. From left to right, Chris Bradford, Betsy McDonough, Patrick Sullivan,
Jeremy Davis, and Steve Kijak. Not pictured are Glenn Parkinson and his wife, and the parents of Patrick Sullivan
Article by NELSAP Researcher Betsy McDonough:
The first annual NELSAP picnic was held on August 12, 2000 at Mount Agamenticus in York, Maine. After a dreary start, the clouds parted and we were treated to a beautiful day. NELSAPPERS from all over New England attended the event which started out with a picnic on the deck of the former ski lodge. Jeremy provided the reading material and conversation rallied around the future of NELSAP (which by the way is very exciting-more to come later!).

One of the rope tow towers at the summit. From left to right, Jeremy Davis, Patrick Sullivan, and Chris Bradford

After lunch, we started our hike down the trails of "Big A". Agamenticus was an upside-down ski area, meaning you park at the top and ski down.

We first checked out the beginner rope tow area which is slowly growing in.

The poles to the tow remain as does part of the "engine building" at the top of the tow. The T-bar sans the T's remain. The trails remain in pretty good shape as they are used by hikers and mountain bikers during the summer.

We then hiked over to the bottom of the double chair lift.

Then it was time for the hike up. We took our time by taking the long windy trail back up. We saw a couple little garter (snakes which Betsy took off in full sprint to get away from!

Also saw plenty of mosquitoes!.
All in all it was a great day and we hope to have more of these events throughout the year and we hope that they get bigger and bigger!

Some discussion about the future of NELSAP involves a greater cooperation with various ski museums of New England, more areas to come, additional states (NY/PA), an increase in the number of still open areas historical images, and more events.

Thanks to Glenn and his wife, Chris, Patrick and Family, Steve, Jeremy, and Betsy for making the trip!


The bottom of the T-bar. From left to right, Betsy McDonough, Patrick Sullivan, Chris Bradford, and Steve Kijak.