West Hawley, MA
1930's - 1980
History ~ Historical Images ~ Memories and Recent Photos
A historically important ski area, Chickley Alp has an interesting past. Founded in the 1930's, the area was one of the original "Snow Train" areas, with skiers boarding trains in NYC and traveling up to Chickley. In 1939, the area had one wide open slope and several trails, along with a 450' rope tow.
| | | |
| --- | --- | --- |
| | A picture of Esther Purinton and her husband at Chickley. Amazingly enough, Esther contacted NELSAP when she saw her picture here, taken in 1953! Read her story in the personal memories towards the bottom of this page. | The area blossomed by the 1940's and into the early 1950's, sprouting an additional 6 rope tows and an increased vertical drop to 300 feet. The area featured several wide slopes, including the South Slope, North Slope, Top Slope, Snow Bowl, and the beginner's Snow Bunny, installed in 1953 by then owner J. A. Graham. Along with the slopes were several trails, including the steep and narrow "Blitzer.", Chickley's premier expert run. |
One rope tow was what was called the "chow line". This rope tow was a two way tow and could transport skiers in both directions.
By the mid and late 1950's, the area lost a few rope tows as they became less necessary. Shown here in this 1950's trail map (generously provided by current owner Richard Desmarais), 4 tows were in operation. One main 1300' tow served the bulk of the terrain, with a 900' tow to serve several of the open slopes. A 200' tow served the beginner area.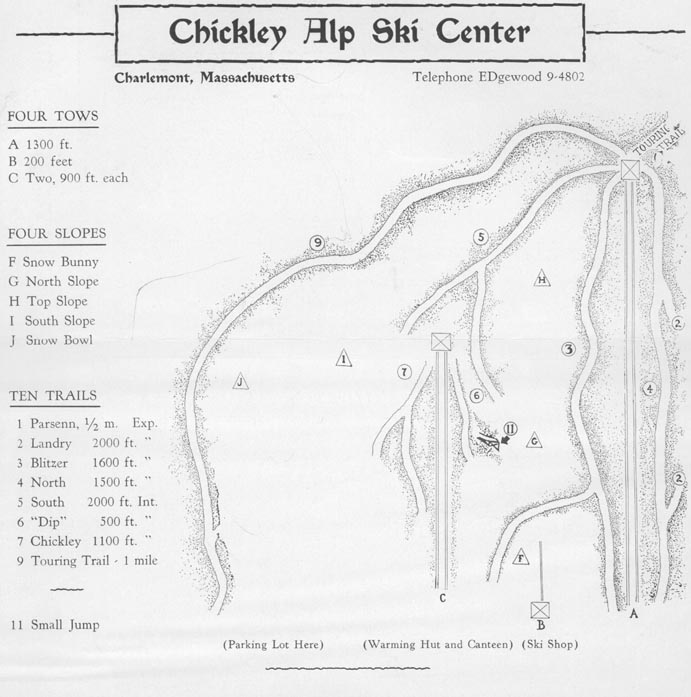 | | |
| --- | --- |
| In the 1960's the ownership changed hands to Richard Desmarais. Richard made capital improvements to the area including a Doppelmayr T-bar in 1966, replacing the longer rope tow. Here's the trail map as it appeared in 1968. Notice how it still followed the older style of Chickley Trail maps. | |
| | |
| --- | --- |
| | A new tow, 200', served a smooth beginner's trail and was installed in the 1970's. This area provided isolated beginner skiing. Here's the trail map for the final season. Notice the variety of slopes and trails. Unfortunately, a string of bad seasons in 1979 and 1980 forced the area to close. Snowmaking at a family area like Chickley would be prohibitively expensive, so two bad seasons in a row did it in. |
Today, saplings are taking over the ski trails. Mr. Desmarais has kept some of the trails clear. The beginners tow still has its giant wheel and old engine. A few pulleys still exist on the 1000' twin tows.

Interestingly enough, you can still ride the T-bar. No, its not at a current ski area, but at a Snow Tube Park on Rte. 26 halfway between Gray, Maine and Sunday River. If you ever drive by the area, stop and take a look, and try to imagine it at this great family place. The lift was removed from Chickley in the mid 1990's.

The view of Chickley in 1992 (Terraserver). Notice the trails being fairly well clear. Lower section is from the 1000' tow, while the top is the T-bar area. You can see some of the trail through the woods.
Richard Desmarais was very gracious for our visit, and provided brochures for this article. I met with him in November of 1998 and had a wonderful tour of the area and got a chance to view his old scrapbook of newspaper clippings. Sadly, he passed away in 2012. This page is dedicated to him.
We are very grateful to Donna Lemoine, the daughter of Richard Desmarais, who allowed NELSAP to share her family photos of Chickley Alp. They show various views of the ski area, as well as family and friends. You can click on each image for the larger version. You can like her Facebook page on Chickley Alp here.
The Slopes
| | | | |
| --- | --- | --- | --- |
| | | | |
| Main slope. | Main slope in Fall. | Beginner tow. | Rope tow liftline. |
| | | |
| --- | --- | --- |
| | | |
| Lower main slope. | Looking down the main slope. | Richard Desmarais on the packer. |
Base Area
| | | | |
| --- | --- | --- | --- |
| | | | |
| Sign in the parking lot. | Leo Chartier next to the sign at the base lodge. | Parking lot and base area. | Base area. |
Family and Friends
| | | |
| --- | --- | --- |
| | | |
| Inside the lodge. | Donna Desmarais | Donna Desmarais |
| | | |
| --- | --- | --- |
| | | |
| Dean Desmarais and Marc Duval. | Dean Desmarais. | David Desmarais |
Here is some of the comments of skiers who enjoyed Chickley, and some current pictures from Joshua B.

The base lodge, now a private home (don't trespass)
Taken by Joshua B, 2001

Tom Guerra: Saw your website, and would tell you that in the early 70's, Chickley Alp was one of the best kept ski secrets in the Northeast. Because of the lack of big crowds, you would end up spending the great majority of your day skiing some very picturesque slopes instead of waiting in lift lines. My family and I spend many a weekend enjoying the Chickley trails until very late into the season. Another important fact I vaguely remember hearing about is that during the 1930's, the winter Olympic trials were held at Chickley.

Eileen Marceau: I learned to ski at Chickley Alps when I was about 12 or 13. A very good friend (Cliff Bogan) used to take me up there. He used to set up his truck camper in the lot for his kids to use. We would stop at Jed's Cider Mill on our way up. I burnt through several pair of ski gloves on the rope tow. It was a great place to learn to ski.
Mary: Our family was very close to Cliff Bogan who always skied at Chickley Alps. I learned how to ski there in 1973. We had more fun on the hour drive up to the mountain and the many wonderful memories of "ski school" and the scary rope tow. There were 10 of us that would trek up every Sunday (most of us in the back of a freezing truck). We all skied at different levels, but boy did we have fun. Thanks for the tour down memory lane.

Nathan Laflamme: I'm Richard Desmarais' grand son. My grand father tells me about the wonderful time's he had running Chickley Alp. I've seen many pictures and movies of the area when it was in its running state. I'm only 15 but I sure would of liked to be around when the ski area was running. It seemed a family place where people of all ages could have fun. I would just like to say I like the web site which makes the resort live on - thank you


The rental shop - 2001 (Joshua B)
The old T-bar lift line, 2001. (Joshua B)

Tammy Ciesla: I remember skiing at Chickley Alp as a young girl. It was a lot of fun always for me. It was back in the late 70's that I skied there. It was during the years when I was 8-10 years old. I grew up in Western Mass and skied at many ski areas that no longer exist. My father, Jack Ciesla, taught ski lessons at the mountain and worked there most weekends. I remember he had me teach kids to ride the T-bar, which is a big deal to a 9 year old. Falling off that thing was fun too!! We used to take sleds up the trails too while waiting to go home, when the slopes were closed for the day.I am now 31 years old and live in Alaska, and run marathons. Of course I still ski, just not as much anymore. It's very different here. I miss the nostalgic ski areas back east that do or don't exist.

Nan Williams: I started skiing as a kid at Chickley Alp and remember it fondly and challenging....not the ski trails but the big rope tow to the top of a steep hill. I finally mastered it with great determination but It took many falls as the rope was too heavy for a kid to hold up on the steep part. Hans Thorner was the ski pro and he taught the old Arlberg method. With the snowmaking and grooming today, I wonder just what we skied on in those days!
| | |
| --- | --- |
| Dave Ouellette: Chickley Alps was my base for years and most of the old crew of teenagers who help run the area in the late 60's and early 70's still keep in close touch. If you could ski the two trails on either side of the new T bar and where the long and especially heavy hemp rope used to be you could ski any trail in the world. They were steep and extremely narrow ( probably no wider than 20 feet) cut right through the existing woods. Talk about natural snow, we skied until late March ( remember skiing Easter Sunday one year in the 60's). Dick may shed some light on the old race trail that was already very overgrown in the 60's that ended up at the old Chickley Farm house that was off to the left of the area as it stood in the 60's and 70's. Also Dick might have some of the old pictures that show the tunnels dug out in the snow to get to the lodge in the 30's or 40's.I still have my Chickley patch on my patrol jacket. Thanks for the memories Dick Desmarais! | Looking up the T-bar lift line, 2002. Joshua B. |

The only remnant of the top of the T-bar (2002, Joshua B).

Gary Romaniak: I grew up in Adams, Mass. and remember vaguely skiing at Chickley a few times when we were kids (maybe 9 or 10 yrs. old). This place was a childs playground. It had narrow little trails with jumps that went through the woods and we (my brother and I) had a ball there.

Robert Tripp: "Jake" (Robert) Tripp worked at Chickley Alps as a handyman during the mid 1970s. He said that on a good day, the mountain would draw a crowd of about 400 people, and would Then ship any more customers to Berkshire East.
Esther Purinton: Imagine my surprise when I opened this web site and saw a picture of my husband and myself skiing at Chickley! We were high school sweethearts, he living in Charlemont and I born and raised in West Hawley just down the road from Chickley and we skied every weekend at Chickley during the late 40's and early 50's. We left the area for 4 years, college and the draft, then returned and eventually resumed skiing at Chickley with our three small sons. Incidentally, the chow line went from the base of the right hand lift west to the adjoining property, at that time also part of Chickley. Our middle son currently lives on that property.

The ski trains that are mentioned stopped at Charlemont and my dad, grandfather and uncle met them with teams of horses and large sleds with high sides and 'carted' the skiers the 2 miles to Chickley, returning them to the train at the end of the day. My mother has wonderful pictures of these caravans.


The Snow Bowl Slope - 2002. Still clear. Joshua B.
| | |
| --- | --- |
| An old rope tow tower - 2002. From Joshua B. | Stephen Bode: I grew up in Ludlow Ma........Chickley is where I learned to ski I was 4 or 5 when my mother and her brother Ron Douville uses to take both families up there to ski. It was a wonderful place to take a family. Now that I have a family I wish there was more places like that around. I was reading Dave Ouellette's comments about Chickley. I still remember the 2 trails on the sides of the t-bar.........it was a big thing when you got old enough and good enough to ski them. In fact I remember Skiing with Dave I believe he was a ski patrol at the area. Great memories!!!!! |
Elsie Hiersche: Chickley Alps was the base for our family skiing weekends in the 50's and 60's. We even remember using the rope tow to the old farm house. Tom and I, and our six daughters, and young neighbors would leave church and head for Chickley Alps where Tom would help Edgar keep the tows running and I would help Joe Graham sell tickets. All of the people we met were good friends interested in having a good time, during the Joe Graham era, and with the Peabody's. How proud we all were when we could "sail" up the Big 1300ft tow in one try!!!

Richard Grogan: My family started to build a vacation home in Heath/Charlemont in 1967. I was 8 years old at the time. Chickley Alp was the first "big hill" that we all went to. I remember our parents dropping us off in the early morning, and skiing until the lift's stopped. I can remember the rope tow tearing thru many pair of mittens and gloves! I can still smell the inside of the lodge, the fire burning and different foods around. I also remember the old Polaris snowmachines that would be used to service the area.


Equipment inside an old building - 2002. From Joshua B.
Chris Martins: Ahh what memories you have just brought back. I was just reading all of the posts about Chickley. My family used to ski there every Sunday right up until the area closed. I am a cousin of Stephen Bode. My aunt and uncle Ronnie and Dolores Douville and my parents John and Lorraine Martins would cart us up there from Ludlow and Palmer. I still remember my mom and my aunt running around the lodge at lunch time trying to give away extra food that they had brought with them. I can remember skiing for 2 dollars for kids and I think 4 dollars for the adults. And believe me when I say that those tow ropes were super scary. I remember losing my glove to one and they had to shut the rope down to retrieve it. My mom would take us to the bunny slope on the left and if we couldn't get up the hill on the rope she would pull us up and send us down. That is how I learned to ski. When we graduated to the T-bar it was a big deal. One of the best things though was it was like skiing with family no matter where you where on the hill. You either knew the people you were skiing with or they were friendly enough where you felt as if you knew them. I remember being broken hearted when it closed.
Peggie Jennings-Quigley:
I did some skiing at Chickley in the late 1960s. I cannot remember the name of the place we stayed at on the weekends, but it was like a family. We had tiny rooms, ricketty bunk beds and great food. One of the guys on ski patrol, Frank Pianowksi of Ludlow MA had an Aunt (with one leg) who used to make the best stuffed cabbage (Polish dish) and send enough for everyone to eat. I cannot remember any one else's name there at the time. I, sort of, only focused on Frank.
My children ski now. I was wondering what ever happened to the place. My children returned from Killington yesterday and did Attitash for a week about three weeks ago. We got to talking and I had some fond memories of skiing at Chickley. I remember the ski coach....I believe his name was Bo.....he was foreign and tough.....his most famous line....."climb da hill....build da leg muscles"! I remember crying....telling him I couldn't do it anymore....he insisted I could.....I climbed the hill one more time and took off my skis and sent them down the hill at him!
Did you ski this area and want to tell the world about it? Please email me at nelsap@yahoo.com and let me know!
Last updated: Jan 11, 2014
Head back to Lost Massachusetts Ski Areas