Mt. Greylock

Adams, MA

1970's

This ski area was the first NELSAP planned area that was never built. Thanks to Blair Mahar, we learned of this area located in the NW part of Massachusetts. This is not the famous Thunderbolt Trail, or the ski area planned in the 1950's, this is the ski area planned and partially built in the 1970's. The double chair was partially built as was the base buildings. Some trails were also cut. What makes this area unique as it appears to be a lost ski area, but it never actually went into operation. I'm sure you will find the pictures of this area rather interesting.

If you would like to learn more about the Thunderbolt Trail, including information on Purple Mountain Majesty, a film soon to be released about it, check out this website.

To help orient you to the placement of this area, here's a map of Greylock from Blair:
The unfinished ski area is at the bottom center. You can see the placement of this relative to the famous Thunderbolt Trail.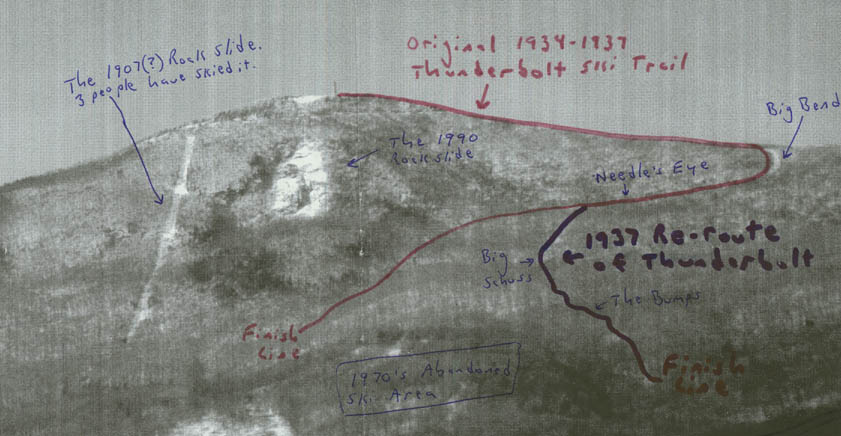 | | |
| --- | --- |
| And now, thanks to Joe Cushing of Sno Engineering (the country's largest ski resort planners), we have the ACTUAL plan for the area! What a great find. Here it is, on the right. Notice that several "pods" of skiing were planned: two beginner/low intermediates on the left, a major area with 700 vertical feet in the center, and a 400' vertical intermediate area on the right. Compare this picture with the Terraserver pic in the slide show below. | |
Here's plenty of pictures, all but the Terraserver one are from Blair Mahar.
Head back to Lost Massachusetts Ski Areas