Mount Watatic Ski Area
Ashby, MA
1930's - 1984
Watatic was a family ski area which opened perhaps around 1940 with a rope tow, making it a historic area. It gradually grew to the summit of Mount Watatic (fairly high in elevation for its location) probably during the 1960's, adding a couple of T-bars and rope tows. Snowmaking was installed in the late 1960's as well as night skiing. The area remained status quo until the early 1980's when 2 chairlifts, including summit double, were installed. The area closed in 1984 due to heavy competition from many nearby larger mountains, such as Crotched and Wachusett. Also, it was off the beaten track, so it was difficult to access.
I first found this area by flipping through the "50 Hikes in Massachusetts Guide". I happened to notice that there was a ski area listed on the Watatic Hike described in the book. Of course, I had to check it out, so I did in June of 1997. Although I explored only the summit of the mountain, it did make me want to check back and see it again. I hiked the entire mountain with my friend Chris Seneta. We found some incredible stuff in August of that year...the burned out base lodge, the remains of the lifts, the overgrown trails...certainly an interesting mountain. But the biggest thing we found was simple...a brochure from 1988-1989. This one brochure told the story (or so we thought). It had a trail map, ticket prices, all sorts of info. Now we knew what trails we were hiking. This brochure was found in the old ski school building, along with hundreds of others. These brochures had been sitting out in this beat up building for almost ten years, exposed to rain and snow, and most were still readable. Later I would find out from many sources that the area closed in 1984 and that the brochure was for an area which never reopened. Details follow below!
Here is a chronology of this area.
1966
(America's Ski Guide)
Lifts: T-bars and rope tows.
No snowmaking.
1969-1970
(Ad from David Hilton)
Here's an ad from 1969-1970. This provides a nice contrast to the trail map listed below. Lifts A and B were rope tows which were eventually replaced by a double chiar. C and D were T-bars, with D being the summit T-bar. Lift C is the only lift still remaining almost completely intact on the mountain. It looks like the Little Dipper trail was extended to the summit at one point, because in 1970 it was only accessible from the beginner's area on the left.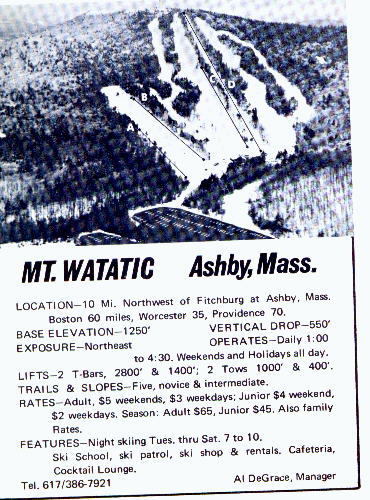 1973
(Ski Guide to the Northeast)
Base elevation: 1250 feet
Vertical Drop: 550 feet
Exposure: Northeast
Features: Area operates daily, snowmaking equipment, night skiing (Tuesday through Saturday, 7 to 10 pm), ski shop, snack bar, rentals, warming huts, 4 lifts (2 T-bars and 2 rope tows) with 4000 per hour capacity, 6 trails, parking for 500 cars.
Ski School: American and GLM techniques, 20 instructors (5 certified)
Rates: Adults $4.00 weekdays, $6.00 weekends.
Children $3.00 weekdays, $5.00 weekends.
1979
(Eastern Ski Map)
Lifts: 2 T-bars and 2 Rope tows
2 Slopes and 4 Trails, novice through expert
Cross country skiing.
Night skiing, snowmaking, packer.
Vertical drop: 500 feet (an error, it was really 550 feet)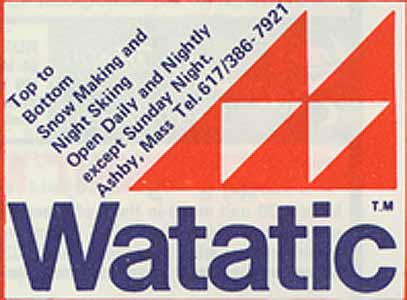 An ad which appeared in the 1979 and 1980 Ski Map.
1980
(Eastern Ski Map)
Nothing changed from 1979 except they fixed the vertical drop to 550 feet.
Early 1980's
It is likely that during this period some expansion took place...the summit T-bar was replaced with a double chair with lattice towers (perhaps bought from another area?) and a double chair is installed on the Snowfield's trail. All of the rope tows are removed.
1983-1984
(Colorado Skier Newsletters)
Watatic most likely closes during this year.
1988-1989
(Brochure found in remains of Ski School Building)
Watatic almost reopens. Actually, this is an interesting story. After closing in the mid 1980's due to competition with other nearby much larger mountains, Watatic sat silent for 5 years. A developer, one that apparently was not the most trustworthy, wanted to reopen the mountain as a major "adventure" park. He wanted to add water slides, more cross country skiing, tobogganing, and much more. The townspeople of Ashby did not want this, but the developer started to redevelop the mountain anyway. He published a brochure advertising their grand reopening on December 17, 1988, and gave the area a new name: Ski Adventure at Watatic, with a new logo, a skiing squirrel. The town did not allow him to reopen, even though he had spent a considerable amount of money on the mountain. The area never reopened.
Here's some info from the brochure:
Snow making to Summit Slopes Under Lights.
You'll be pleasantly surprised at the size and large variety of ski facilities at Ski Adventure. There are seven downhill runs from the summit, all well groomed for good skiing on minimum snow cover. Two double chairs and one T-bar help keep the waiting lines shorter. The great combination of north slope exposure and high base elevation produce surprisingly good natural snow conditions.
Operation Schedule
No closedown during twilight hours after Jan. 1. Open daily-Monday through Friday, 9am to 10pm. Saturday and Sunday 8am to 10pm.
Snowmaking
Our natural snow cover is supplemented by our large snowmaking plant. We have snowmaking capability from top to bottom of our mountain on all our main slopes and trails.
Night Skiing
The same slopes covered by snowmaking are also brightly lighted for great skiing at night. The nighttime schedule is Monday through Sunday from 4 to 10.
Ski School
Our fine professional ski school is ready to give you assistance in improving your skill. Whether you are an advanced skier or first-timer, they are ready to help you advance rapidly and safely. Please refer to our ski-school insert for description of programs.
Ski Rental Shop
Our ski shop provides an efficient, safe rental package. We now have a modern rental system and ski tune-up service. The ski shop accepts Mastercard and Visa.
Snow Drift Lounge
After a hard day or night on the ski slopes, come in and relax with your favorite beverage in our cozy lounge. Congenial friends and a warm fireplace make a perfect ending to a perfect day.
Snack Bar
Delicious food served in the base lodge. Open at all times during skiing hours.
Toboggan Run
Oh, what fun! Enjoy an exhilarating ride down our fast track toboggan run. Fun for all ages.
Watch for our Touring Center to open 1989-1990 Ski Season
Rent a Mountain for your Outing
Looking for a great place to have a party? You've just found it! Our spacious lodge and grounds can be rented for your activities anytime out of ski season. Make your summer outings a big success. Call or write for details.
1988-1989 Rates
Weekends and holidays:
All day (8 to 4) Afternoon (1230-4)
Adult $28.00 Adult $22.00
Junior $22.00 Junior $18.00
Weekdays:
Day (9 to 4) Mornings (9 to 1230), Afternoons (1230 to 4)
Adult $20.00 Adult $14.00
Junior $16.00 Junior $10.00
Nights:
Monday through Sunday (6 to 10pm)
All tickets $18.00
Specials:
Ladies Day--Tuesday
Men's Day--Wednesday
College Day--Thursday
All tickets $14.00
Rentals: $17.00, all day
Half Day $15.00
Here are some pictures from that brochure: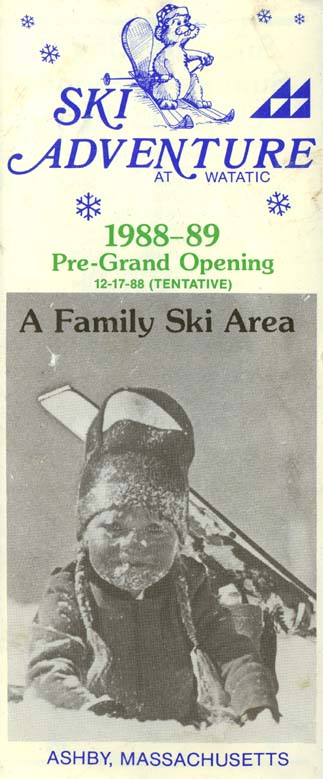 The brochure cover due to area that never reopened.

Here is the trail map, which I am going to assume is completely valid for the last year they were open. The mountain was fairly sizable, with both winding, narrow expert trails, wide open intermediate runs, and the Snowfields beginner area with its own double chair. This map was found in a brochure that remarkably had survived 9 years of exposure to the elements in a rotting building.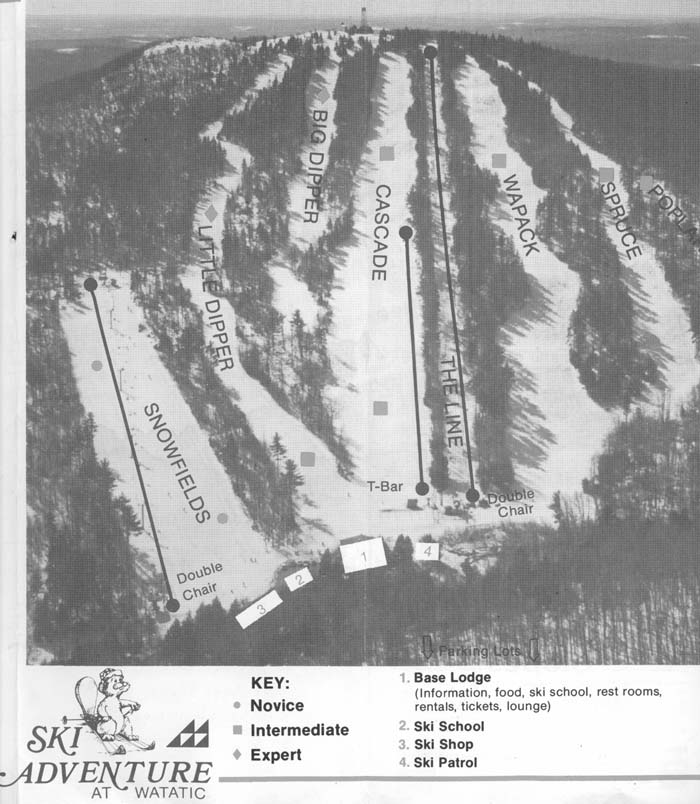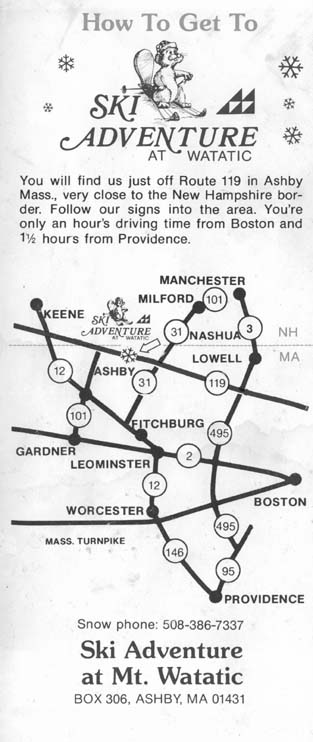 Directions on how to get to Watatic from that brochure.
Early 1990's
The double chair to the summit is partly removed, but the towers are still present, laying along "The Line" trail.
1997 & 1998
(Personal visit with my friend Chris Seneta (August 97) and Brent Macaloney (April 1998)
The base lodge is torched by vandals in July of 1997. Most of the base buildings are in horrible shape, all disfigured from years of vandalism and natural wear and tear. The double on the snowfields slope has been removed. Also, the ice storm of 1998 caused significant damage to this mountain, with many branches and trees down throughout it. Here are some of the pictures we took on our visit:
Base buildings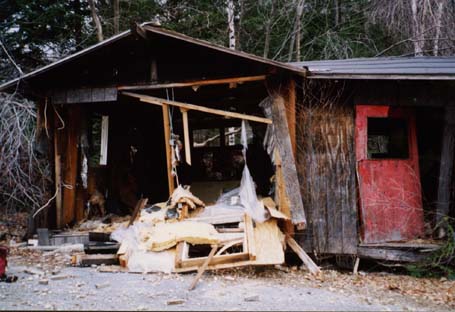 The old ski school building, where we found the brochures.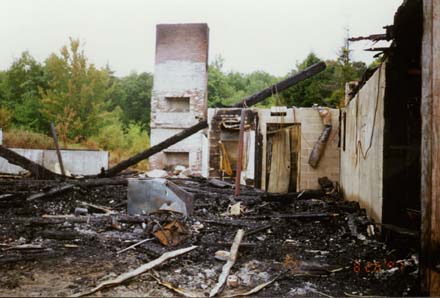 The burned base lodge. Notice how the wooden beams burned the least, and that the fireplace is still standing.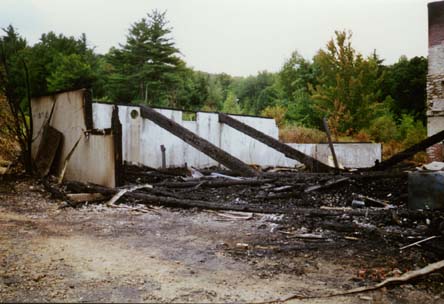 Looking to the left of the above picture. Same deal with those heavy beams.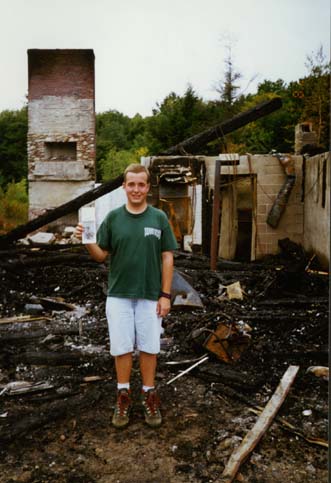 The author standing in the remains of the base lodge showing the brochure we found.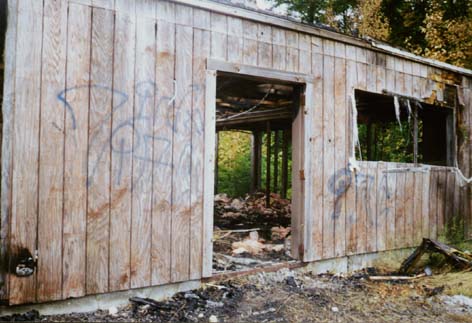 The far right of the burned base lodge, notice the graffiti.
Lifts and Their Remains: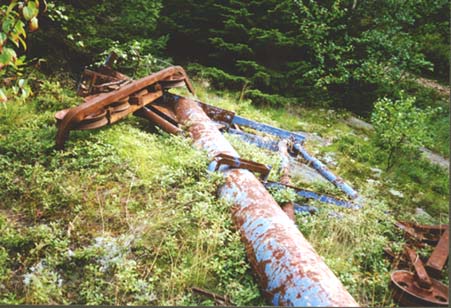 One of the old double chair towers, near the summit.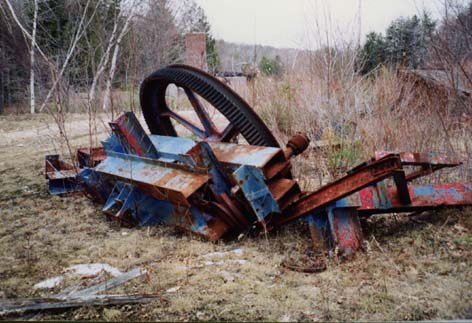 The bullwheel of the double, at the base.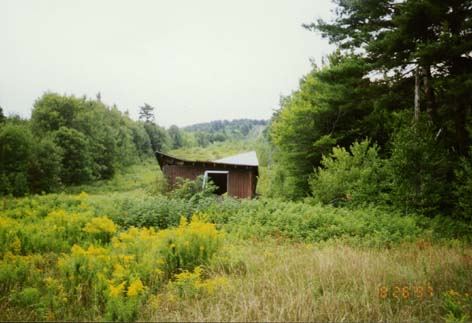 The base of the T-bar, looking up the Cascade Slope.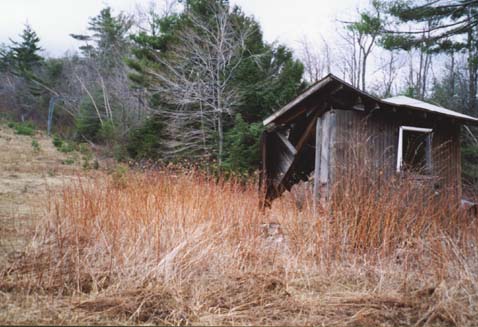 The T-bar base building. You can see the T-bar tower on the left side of this picture.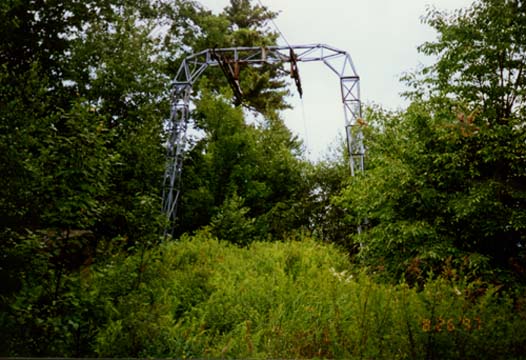 The top of the T-bar. Notice that the tower hasn't rusted much in 15 years.
Maintenance Section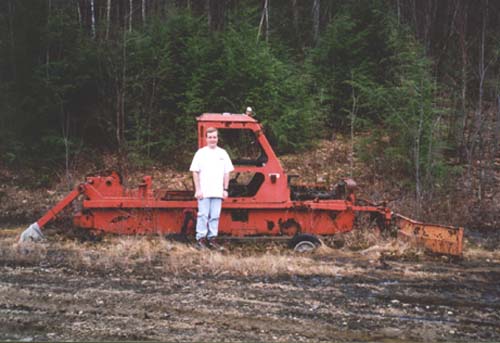 Jeremy next to the last groomer. Thanks to Brent Macaloney for taking this pic!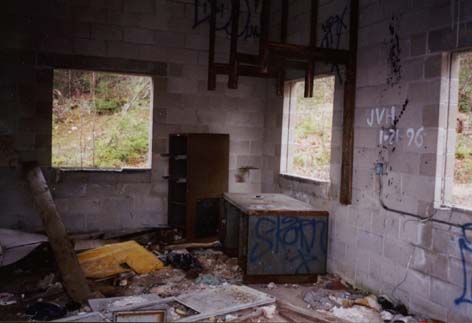 The maintenance garage, or perhaps the snowmaking garage. What a mess!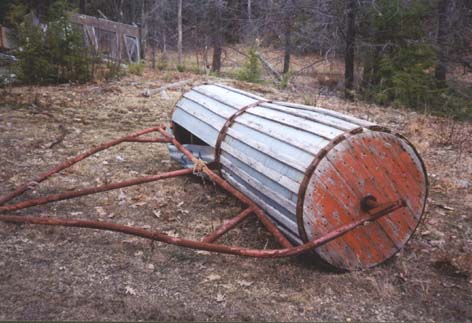 The snow packer. Looks just like the one from Agamenticus!
Head back to Lost Massachusetts Ski Areas