Pinnacle Ski Area
Pittsfield, ME
1960's
Well, another area thought to be lost is really not! Thanks to information from First Tracks by Glenn Parkinson and from Robert Beattie, we now know the area is still open!
During the 1960's this ski area opened in Pittsfield, and offered skiing served by a 600 foot long rope tow. It was operated by the local Kiwanis Club, then by the Pinnacle Ski Club. The area continues to be operated today when snowfalls permit. Robert Beattie, a visitor to NELSAP, first learned to ski here.
Thanks to a visit to the New England Ski Museum, we now have this great aerial shot of this ski area. Notice the water tower, and the fact that you could ski around either side of the tow. Compare this aerial shot to the Terraserver picture below.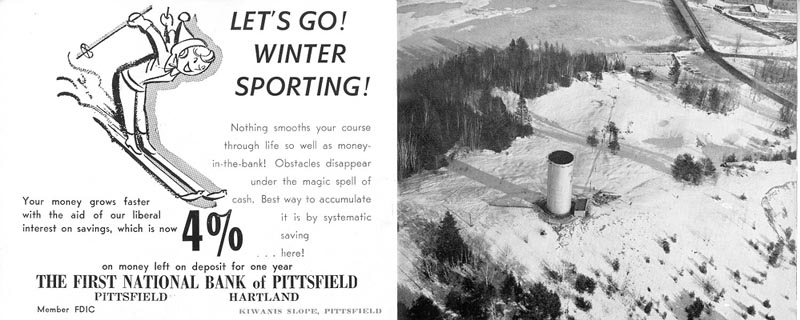 | | |
| --- | --- |
| Here's the Terraserver picture. You can see the bridge and tower from the photo above. Notice the rope tow line, how it passes thru two sets of trees. These trees are significantly lower in the real picture above. | |
Thanks to Walter B. Melvin, we now have even more information on this open area. Here's what he has to say:

"I particularly enjoyed the photo of the Pinnacle Ski Area in Pittsfield, Maine. I only skied at Pinnacle a couple of times in 1960 when it was the home mountain for the M.C.I. High School Ski Team.

Just to the right of the tower beyond the lift building in the photo is a structure which in 1960 was the ski jump inrun. The jump ran to the right, in the photo to the gravel pit and the lip was at the top of the pit. The outrun ran down into the pit area. This all worked out quite nicely.

The downhill race course, on the other hand, started in the same place as the jump and ran down a steeper section of the gravel pit and across the water filled bottom of the pit. The course required that you run 100 yards and jump off a gravel bank and skate across a pond to complete the downhill.

I visited this area last summer and found it to be still alive without the water tank and gravel pit attractions."

Here's Walter's very detailed drawing of this ski area, showing the slopes and features.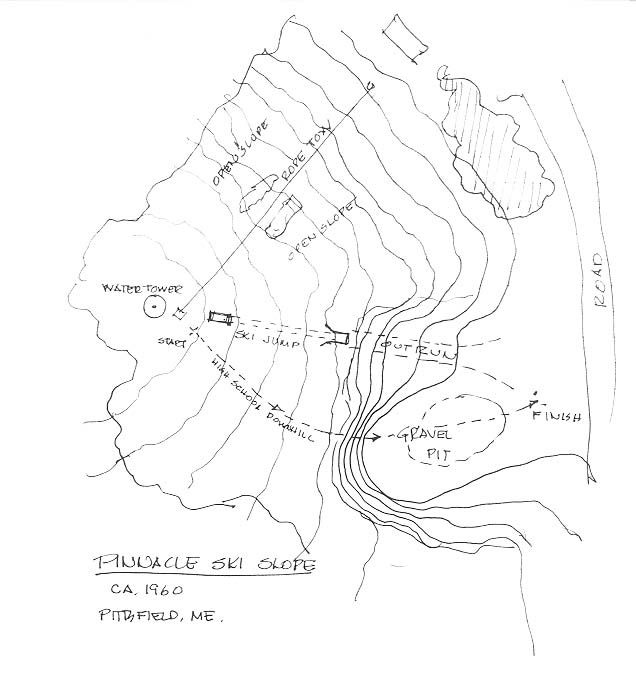 Does anybody else remember skiing here?
Head back to Lost Maine Ski Areas