Brookline/Big Bear
Musket Mtn. Ski Area
Brookline, NH
1936 off an on - 1984
History Details by the Year Personal Memories Pictures and Images
History
This area had three names at one point! Brookline opened in 1936, but likely closed during World War II. Lisa Melone, whose grandfather owned the area, has this to say about the early history of the area- "My grandfather owned and ran Brookline back in the 30's but they closed due to gas shortages during WWII. I believe my grandfather, Weston Blake, co-owned it with another fellow. He also co-owned and ran the longest continuous running rope tow in the states, North East Slopes in East Corinth VT."
There were several rope tows during the early years time and a 300-350 foot drop. This was one of the earliest and closest areas that was accessible to Boston and southern NH.
Then, listing appear again in 1961. One listing suggests a chair tramway, never installed, but maybe planned. Snowmaking and night skiing was installed. 4 trails were wove in and out of the woods. A T-bar enhanced lift capacity and was installed around 1962.


Then it changed its name to Big Bear in 1973. Lots of ski areas choose bears as part of their name or trails, a popular name I guess. It operated with a T-bar and several rope tows. Also, the vertical drop shot up and down, but was actually around 300 feet. These guidebooks are often wrong with cases like this!

The T-bar as it appeared in the 1970's.
From a brochure provided by the New England Ski Museum.
In the late 1970's the vertical dropped to 248 feet, but this could also be wrong. 300 feet should do it. Big Bear changed its name to Musket in 1983 and subsequently closed in 1984.
I visited this area in April of 1998, and although the trails are still clear, the lifts are all but gone. The base lodge was called Dotty's Dance World in 1998, but is now the Big Bear Function Center and Pub. The owner of the property, Paul Andres, has installed a hiking trail complete with art sculptures, opened year round - be sure to check it out!
Year
Lifts
Trails
Other Info
Source

Brookline

1936
2 tows, one 950' long
unknown
Two youngsters from Greenough and Noble School made 84 trips on the tow on Sunday in 1936. They got in 25000 vertical feet
Book - New England Skiing
1938-1939
1200' tow has 320 foot drop, and 500' tow has 85 foot drop
Various ski trails connect with open slopes. New slope for beginners not served by tow.
None
NH Winter Sports Map
1939
Same
4 trails cut on main hill, run through woods and end close to tows. Length of trails 1/5 mile, 20-40 feet wide, one trail, rather sporty, has slope of 31 degrees, needs 10" to ski. Trails for all classes.
None
Skier's Guide to New England
1946-1947
Same
open slopes, 3 trails including Depot, Summit, and Cutback Trail
None
NH Winter Map
1948-1949
Same
700' beginner slope served by short tow, 1200' slope, 2100' expert Go Devil Trail, 900' summit novice trail, 900' Cutback intermediate trail, 1050' Depot intermediate trail
None
NH Winter Map
1951, 1953
Same
Same
Operates weekend and holidays
NH Winter Guide
1961
Oldest tow in NH and 2nd oldest in New England. 1000' tow, 600' tow, and 400' tow
1200-1800' long runs. 1000' tow serves 1800' advanced slope, 600' tow serves 800' slope, and 400' tow serves 600' novice area
Best skiing close to Boston (1hr 10min away). New owners Arthur DeRosa and Son plan to install a T-bar for intermediate and advanced slopes in the next few years
Brochure from New England Ski Museum
1963
T-bar, 2 rope tows
7 trails and slope
Family area, vertical drop 350', snowmaking. More info see map below.
Buxton's Ski Guide
1964
T-bar, 3 tows
4 slopes, 8 trails, novice thru expert
Chair tramway planned (never installed), ski school, packer, snowmaking
Eastern Ski Map
1966
T-bar, rope tows
Unknown
Snowmaking
America's Ski Book
1968
1400' T-bar, 900' tow, 700' tow, 400' tow
6 trails, novice thru expert, 4 slopes
Base elevation 200 feet, east and northeast exposure, $3.50 adult weekdays, and $4.50 weekends, operates daily
Unknown Ski Guide
1969
T-bar, 4 tows
8 trails and 4 slopes, novice thru expert
none
Eastern Ski Map

Big Bear

1973
1 T-bar, 3 ropes, 1500 per hour capacity
8 trails
Located 10 miles west of Nashua on Rte 13, 360' vertical, NE exposure, operates Wed-Sun, snowmaking, night skiing, ski shop, restaurant, snack bar, rentals, 10 instructors (0 certified). Rates, $3.00 adult and $1.50 junior weekdays, $4.50 adult and $3.00 junior weekends, $100 adult for season, and $50 junior for season. Family with 1 child $11.00, $1.00 for each additional child
Skier's Guide to New England
1970's
Pony lift, T-bar, rope tow
7 trails and slopes, trails renamed (may have been renamed long ago)
See map below
1979
T-bar, 3 tows
3 slopes, 7 trails, novice through expert
Ski school, snowmaking, 248 foot drop
Eastern Ski Map

Musket Mountain

1983
Unknown
Unknown
Name changes to Musket Mountain
The Colorado Skier
1984
Unknown
Unknown
Mountain closes for good
same
Brian O'Malley remembers skiing here. Here's his recollection: Brookline had a couple steep drops and a few mild trails, and as I recall a T-bar and rope tow. The place was cheap, it was about $7 to ski there on a weekend in 1978. We paid $10 or so to ski Onset in 1975, so by 1978 Onset was probably $15 a ticket. The funny story I have about Brookline is that we were going up the T-bar track and my friend said "look at the 2 guys ahead of us!". One fell off and rolled to the side, the other fell but caught the T and was dragged up the hill screaming and yelling--sideways! Mark, my skiing buddy, said I never laughed so hard in my life. This guy was not gonna let go till the top. Now when i think back on it---it was really funny, because the area was kinda strange! Conditions were usually good there.......it made for a good spot because it was only 35 minutes from my home.
Cin has more information on the area: Saw your web site and thought you may want an update on the NEW Big Bear in Brookline NH on 106 rte 13, the former Big Bear Ski area. The building has been totally renovated and is now a Function Center and restaurant/pub. With bands playing every Saturday night in the function hall and bingo on Thursday, Friday and Saturdays. It is now called Big Bear Function center and Pub.
Alex Lively: I actually know a fair bit about big bear in brookline. I grew up right at the bottom. It's still very ratable. There is a house on the peak now (good friend of my fathers) but all he asks is that you stay away from the house. He also hosts a fair amount of sculptures on and around the mountain that are open to the public. It makes for a nice day overall, there's some good art , and weather prevailing some super rides. also if your into c.c. there is miles of trails stretching all the way up to concord, some of the terrain can get a little rough but it makes for a good adventure.
Big Bear in Brookline NH was actually a somewhat challenging area. It had steepness. A Brookline resident says that there was some town law saying it had to be called Big Bear. It became Musket Mt. when someone else bought it. Don't know if the town actually had this law.
John Manson learned to ski here: . I learned to ski at the Brookline Ski Tows in 1959. I have a ski ticket from the area dated Jan. 23, 1960. At that time there were two rope tows. One went to the summit and the other about half way up.
James McElroy: I grew up in Brookline NH and learned to ski at Musket Mountain (although I remember seeing cars with Big Bear bumper stickers). The Brookline NH town history books (there are three of them) have some details about the ski area. Some additional details about the ski area: - Brookline Elementary school had an official ski program with Musket when it was open. We used to walk to the ski area from school. - There used to be a concrete skating bowl near the lodge, but this was demolished ( I believe due to liability concerns) - You could see the lights from the Brookline Village Store from the top of the mountain. I remember looking at the store to see what time it was (during night skiiing). - Musket was owned by a local family from Brookline in the 80s. They tried very hard to make the ski area a success (cleaning up the lodge, reopening the restaurant - I think it was called the red flannel tavern or something like that, holding dances, offering ski lessons, etc. etc.) but the mid eighties were a bad time to open a ski area in New England (high real estate costs, bad winters, recession). - Musket included a fairly extensive network of cross country trails. - The mountain is now owned by Paul Andres http://www.andres-inv.com/ - There is now a house and cell phone tower at the top of the mountain, along with a art institute: http://www.andres-inv.com/art.htm - The lodge was recently extensively renovated into a bingo parlor (outdated site, but some details at: http://www.andres-inv.com/invest.htm)
Paul Andres (who know owns the land and a house on the top): I purchased the back property (103 acres and the house) in 1992 from the estate of Murry Clayman after 19 months of negotiation with the lawyers involved. The house was 90% complete but in disrepair - furnace broken, kitchen incomplete, windows leaking. The driveway was so washed out it was passable only by 4 wheel drive vehicle. I've spent the last 8 years rebuilding the home.

During this time I also purchased 2 landlocked lots adjacent to the house lot totaling approximately 17 acres bringing the house lot to 120 acres.

In 1996 I began construction of the studio complex, planned as 2 buildings with a courtyard between them. The first building, a 5000 sq ft combination facility with a garage below and an art production facility above, has been completed. The upper section includes a 10 ton overhead crane with a pass-thru rail to facilitate moving large blocks of stone through the building. No plans are currently in place for constructing the second building. This complex is leased to the Andres Institute of Art, a 501.c3 not for profit educational institute founded to "advance the state of technology in the arts".

In 1998 I purchased the lodge and it's 17 acres from Eddie Witcomb. In 1999 we began renovation of this property into a bingo hall, buffet restaurant, and bar which operates today under the B4 name (I lease it to them).

The Institute runs an annual symposium where a varying number of international artists are invited to create works for the grounds. This year is the third symposium and runs from August 5 through 19th when the studio and surrounding grounds are open to the public. The intent is to create a sculpture park with walking trails on the almost 140 acres; there are already about 30 pieces in place and a trail head behind the lodge (using the B4 parking lot). This trial is open year around to the public and maps are available at the trail head. The studio is open by appointment at times other than the Symposium and workshops. A painting workshop was just completed. John Weidman is the Artistic Director of the institute.

Additional Pictures and Maps
| | |
| --- | --- |
| | Brookline's trail map in 1963, from Buxton's Ski Guide. Original trails include Go Devil, Cut Back, Depot, and Boot Hill (the 1200' slope mentioned so often in past listings. The 1800' T-bar was the main lift that ran straight up the center of the area. This likely replaced a rope tow which formerly ran up to the summit. The beginner's area (450' tow) was on the far bottom left. A 1000' rope tow served the expert slope (6) and Depot trail. |
A view of the slopes in the early 1970's. Picture provided by Lenny Sullivan, looking up the main slope.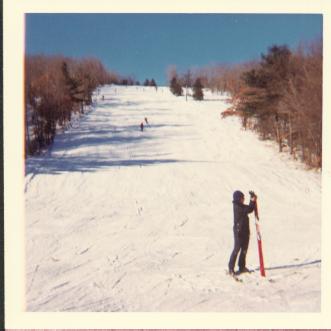 | | |
| --- | --- |
| | Here are some more details from the brochure: "Big Bear, Brookline, NH, is one of New England's most convenient ski resorts, located 10 miles west of Nashua, being a short drive from a number of major MA and NH cities and towns, which means less driving and more skiing on our 127 acres. Big Bear features efficient snowmakers, T-bar lift, Pony lift, trails and slopes for beginners, intermediates and experts. Parking for 500 cars. |
| | |
| --- | --- |
| The left edge of this area, in April 1998. This was a fairly broad slope, called the Boot Hill Slope, then called Grizzly in the 1970's. | |
| | |
| --- | --- |
| | The expert slope to the far right of the area. The 1000' rope tow ran up the far right until the 1970's. |
| | |
| --- | --- |
| The base lodge, where you can still see the ticket window, when it was "Dotty's Dance World" | |
| | |
| --- | --- |
| | Here's a view of the lodge in the back during the late 1990s, courtesy of Brian O'Malley. What a mess! Now the area has been fixed up and looks much better, and is now the Big Bear Function Center and Pub. |
| | |
| --- | --- |
| Here's the Terraserver aerial of Brookline...notice the wide slopes, clear T-bar lift line, and narrow trails through the woods. | |