Crotched Mountain

Francestown, NH

1964 - 1989

Crotched Mountain Ski Area was one of the few truly major ski areas in the state of New Hampshire to close. The ski area went through many changes as it was built in the 1960's, stayed status quo during the 1970's, merged in 1980, and grew rapidly in the 1980's only to close in 1989.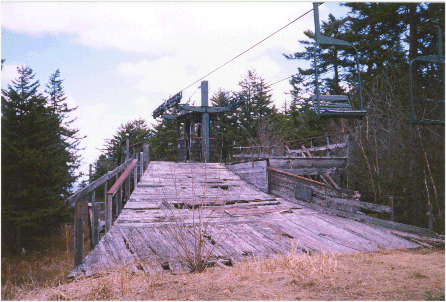 Crotched Mountain is built onto the Northeast shoulder of Crotched Mountain, a medium size mountain of elevation 2000 feet in southwest NH. It was first developed in 1964 and originally had a Hall Double Chair (shown on the right in 1999, photo courtesy of Chris Bradford), and two surface lifts. Its vertical drop seemed to change with every guidebook published: from 800 feet in 1966, to 675 feet in 1973, to 700 feet in 1979/1980. A vertical drop of 700 to 800 feet will do for our purposes. Over the next few years the area gradually added slopes and trails and even snowmaking by 1966.
By the late 1960's Crotched was a happening place. The base lodge was large and hosted many entertainment events. The skiing was distributed on 6 trails and slopes that provided a wide variety of skiing. Snowmaking supplemented a high natural snowfall due to its snowbelt location. Skiers from all over southern NH and northern Mass were flocking to the slopes to learn how to ski.
The 1970's saw things remain status quo at Crotched...no new lifts were built and only a few trails were added, most likely Scott's Run and Willet's Run. The area needed a new infusion of life in order to keep it going.
By 1980 the ski area next door, Bobcat, was up for sale. The owners/managers of Crotched saw a great opportunity: purchase Bobcat and interconnect the two mountains. During the summer of 1980 two trails were built to connect the two areas, snowmaking was upgraded, and the cabin car double at Bobcat was likely converted into just a regular double. The area suddenly had grown to 26 tails and 7 lifts. The Bobcat trails were completely renamed, and the area was called Crotched West. Old Crotched became Crotched East.
The 1980's saw improvements to snowmaking and the trails. A new pony lift was added at Crotched East, and a new double was built around 1986 on Crotched West, near the present day Condos. Another surface tow was also added. Night skiing was relegated to Crotched East which saw almost all of its slopes and trails lit up.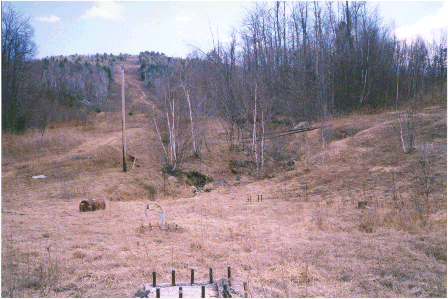 By 1987/1988, the owner's really wanted to improve. A massive redevelopment began. First, a fixed grip quad chairlift was built on the old Bobcat side of the ski area (lift line in 1999 shown on left, courtesy of Chris Bradford). 4 new advanced/intermediate trails were also built in conjunction with the new quad. The old T-bar from Onset was rebuilt to serve upper mountain expert terrain. Then, the developers made the biggest mistake of all: the construction of over 100 condominium units! This was too much too fast for this medium sized ski area. The costs became overwhelming, and, unfortunately, the area was forced to close in 1989.
Several buyers looked into reopening the area, one even almost did under the new name of Evergreen. But it was not to be. The area has laid silent for 10 years now and is rapidly decaying. Most of the lifts are still standing: the double to the top of Crotched even has all of the 35 year old chairs still attached. You can hike to the summit, the directions to hike up are listed in many New Hampshire Hiking Guidebooks.
This is really a sad story for a closed ski area. This area offered cheap skiing with a large variety of slopes, trails, and lifts. It had a lot to offer. Another reason for its downfall is its location...it was just a little too far away from the main highways to generate significant sales.
The details of each year and many images follow:
1964
(Eastern Ski Map)
Double chair, T-bar lift, J-bar lift (questionable whether it was there or not), trails, slopes, patrol
1966
(America's Ski Book)
Crotched Mountain has a double chair, 2 T-bars, an 800 foot drop, and snowmaking.
1968-1969
(Brochure, courtesy of The Colorado Skier)
Thanks to the Colorado Skier, we have this early brochure from Crotched. Here's some snippets from inside the brochure:
From the three lifts to the unique base lodge, everything at Crotched Mountain has been planned for skiing pleasure for the entire family. Groomed trails and slopes offer a challenge to everyone-whether beginner or expert. High capacity lifts insure maximum skiing enjoyment and minimum time waiting in line. Snow machines and lights on the lower slope assure you that we're ready for you any time you can find the time to ski. The base lodge, with its lounges, fireplaces, open decks, fine food, shops and nursery, provides every requirement for comfort and convenience. Crotched's well rounded operation includes club-sponsored junior racing, ski touring, midweek programs for ladies and professional men, special holiday events and group activities. The Crotched Mountain Ski School, under the direction of certified professionals, offers instruction in the American Ski Technique, for skiers of every ability level. Crotched is a friendly area, dedicated to skiing fun! Our lift attendants, slope crew, patrolmen, everyone you meet at Crotched-aim to add to your skiing pleasure on every visit. So, if skiing is a family affair with you, come to Crotched Mountain, where everyone can get in on the fun!
Here's the cover of the brochure.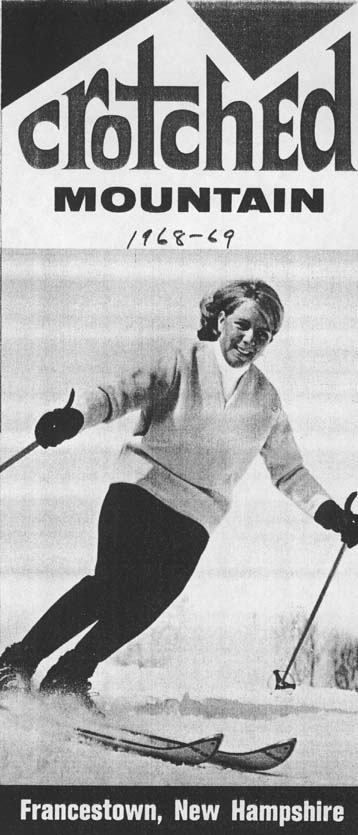 And here's their trail map. The double went to the summit, while the T-bar was went about halfway. Novice area was below the main base lodge. When the trails received names, Trail 1 became Meadows, Trail 2 became Blitz, Trail 3 became Dipsy Doodle, Trail 4 became Old Glory, Trail 5 became Sugar Run, and Trail 6 became Valley Run.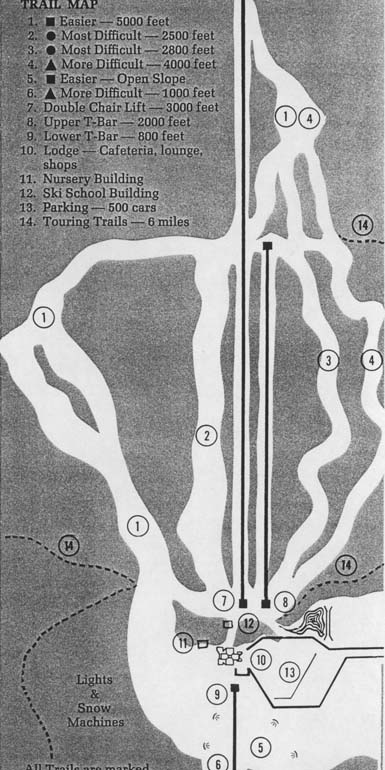 1969
(Eastern Ski Map)
Double chair, 2 T-bars
Slope, 8 trails (novice through expert)
Ski school, patrol, packer, snowmaking
Here's the ad that appeared in that year:


1973
(Ski Guide to the Northeast)
Base elevation: 1200 feet
Vertical drop: 675 feet
Exposure: NE
Features: Area operates daily, night skiing (Tues-Sat), ski shop, area restaurant, rentals, warming huts, nursery, 3 lifts (1 double and 2 T-bars) with 3000 per hour capacity, 7 trails, parking for 500 cars. No snowmaking. (this seems doubtful...it had snowmaking in 1966 and 1969)
20 ski instructors, American Technique
Rates: Adult $5.00 weekday, $8.00 weekend, $135.00 season
Junior: $4.00 weekday, $6.00 weekend, $75.00 season
1979
(Eastern Ski Map)
Same as what it will be for 1980.
1980
(Eastern Ski Map)
Double chairlift, 2 T-bars, pony lift
10 slopes and trails (novice through expert)
Ski school, patrol, cross country, 3 packers, snowmaking, 700 foot vertical drop, NE exposure
Crotched mergers with nearby Bobcat Ski Area this year, and interconnects the two mountains with two trails, Meadowlark and Percy's Pass.
1983-1984
(Brochure copy courtesy of The Colorado Skier)
Here's snippets from that brochure:
26 tails, 7 lifts, 1000 vertical feet
Big News! 100% increase in snowmaking! Crotched Mountain has doubled its snowmaking capabilities by adding the latest state of the art equipment for twice the snow in half the time! Its one of the many added improvements this season! Come and see us!
Night Skiing...at half the price of day skiing! Uncrowded..crisp air..starry skies..crackling fires and live entertainment in our lounge....all at New Hampshire's largest night skiing area!
Take the Crotched Mountain Challenge
To Existing Skiers
We want you to ski Crotched Mtn., now the largest ski area south of Waterville Valley. Compare our product, our programs, prices, and personnel. Check out our 100% expansion in snowmaking. If you are not satisfied and have a legitimate complaint, let us know-we'll provide you with a complimentary lit ticket so that you can give us another chance!
To New Skiers
We'll bet that you will like skiing if you try skiing. We want you to give skiing an honest try! That's right, you put up just $10.00 and we'll give you the following learn to ski package, good weekdays, non peak or any night! A $15.00 bet will give you the same package during weekends and holidays. The package consists of: A very warm welcome to Crotched Mountain, orientation to skiing and use of equipment, a professional 1.5 hour group lesson, a 1/2 day ticket for our beginner lifts, a complimentary beverage of soda, coffee, tea, wine, or beer. If you're not satisfied with your ski experience, we'll refund your money and hope to see you again soon.
Lift ticket rates: $12.00 weekday, $7.00 half night, $12.00 Day/night weekday
Adults: Weekend all day $16, $13 half day, $16 day/night, $10 night, $8 late night
Junior: Weekend all day $14, $11 half day, $14 day/night, $10 night, $8 late night
Here's the trail map. Notice how Bobcat ski area is on the right (Crotched West) and the original Crotched Mtn (Crotched East) is on the left. This looked like quite a large area, and I'm sure it would have made for some very interesting skiing. This area was similar to Magic/Timberside in that two former separate mountains were interconnected with just a few trails. This is dissimilar to what happened to Carinthia, which became permanently blended with Mt. Snow.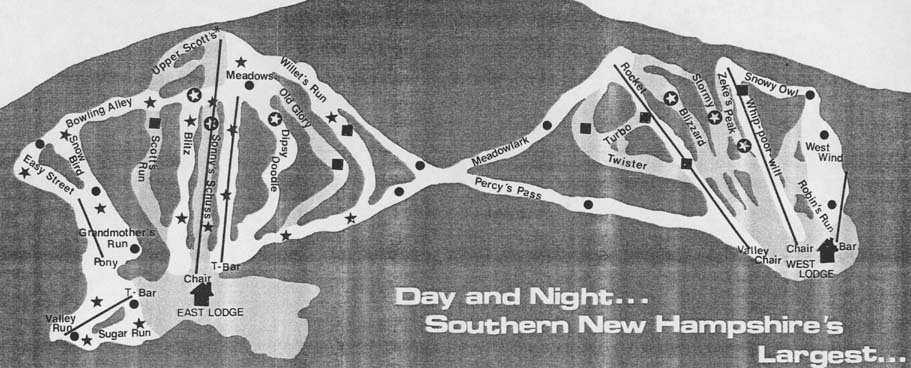 The cover to the 1983/1984 brochure.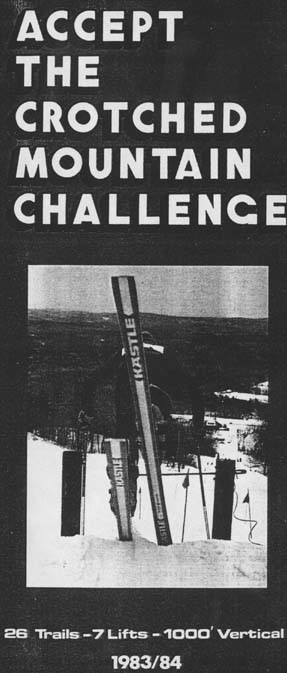 The view from the base lodge at the Crotched (Crotched East) side of the ski area. You can see several slopes and trails, and the T-bar lift line.


1987
(White Book of Ski Areas)
Summit elevation: 2000 feet
Base elevation: 1000 feet
Vertical drop: 1000 feet
30 slopes, over 10 miles of runs
Longest run: 1.35 miles
Lifts: 9, 2 tows, 3 doubles, 1 quad, 3 T-bars. 6000 skiers per hour
Season: open daily 830-4, weekends/holidays 9-4, night skiing Tues-Sun 5-10pm
Rates: Adults, $14.00 weekday, $8.00 halfday weekday, $20.00 weekend/holiday, $16.00 halfday weekend/holiday, $10.00 night
Junior: $14.00 weekday, $8.00 halfday weekday, $16.00 weekend/holiday, $13.00 halfday weekend/holiday, $10.00 night
50 ski instructors
Four lodging facilities nearby, 100 condos slopeside available
Services: 2 cafeterias, 2 lounges, 2 base lodges, 2 ski shops, professional and volunteer ski patrol, nursery lessons
New this season: New quad chairlift with 4 new trails (intermediate and advanced), improved night lighting, expanded snowmaking, base lodges renovated, new retail shop, alpine training center and 100 new condos.
We have also learned now that this year the old Onset T-bar was resurrected to serve upper mountain expert trails on Crotched West. Check out the T-bar in the trail map below (info from Chris Bradford's brochure)
1988-1989
(Trail Map courtesy of Dave Kulis)
Here's the trail map from the last year of operation, showing the new quad on the right hand side. Interestingly enough, upper Scott's was closed by this year...erosion perhaps?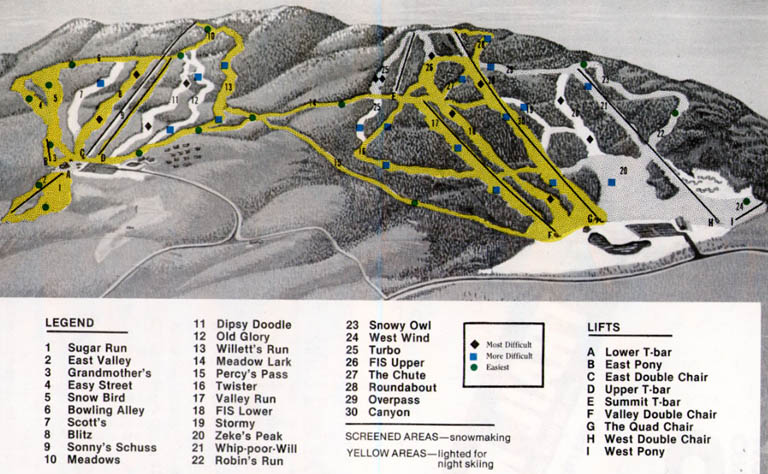 1989-1990
Crotched closes during this year.
1990-1991
Crotched almost reopens this year. Check out the photo from Chris Bradford:. This is the base lodge on the Onset side (Crotched West) of the complex.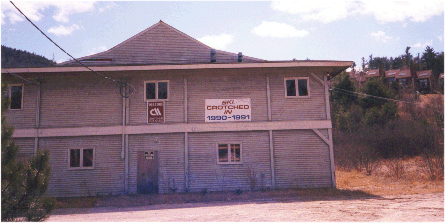 Today
(Photos Courtesy of Chris Bradford)
The old Crotched Mtn. T-bar summit terminal. According to Chris, this was likely going to be removed during the last year of operation.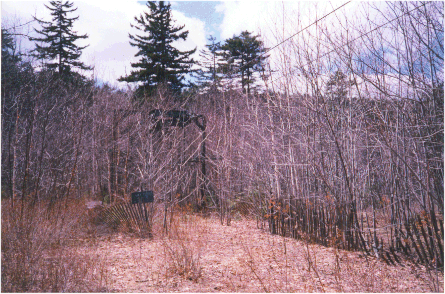 The base of the old summit Crotched double. The chairs on the right are next to each other, weird huh!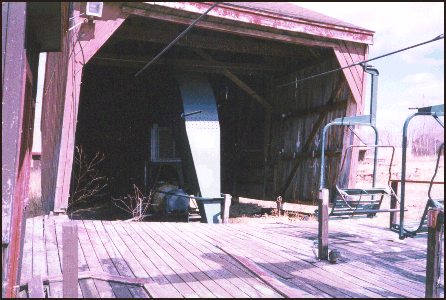 More chairs from the summit double, just lying on the ground.

Head back to Lost New Hampshire Ski Areas