King Ridge Ski Area
Sutton, NH
1961-1995
King Ridge was one of the few closed ski areas I've actually skied while in operation. I had visited this area in 1991 for my birthday with some friends.
King Ridge opened in 1961 with at least a T-bar and a rope tow on about a 500 foot drop. It built its reputation on family and affordable skiing. All of the trail names had something to do with Alice in Wonderland.
In the late 1960's a double chairlift was installed to provide novice skiers with a decent vertical. But in the early 1970's King Ridge built a triple chair on the King Ridge hill. This triple was one of the first ones built in all of New England.
The ski area gradually added more trails and a few J-bars to replace the rope tows during the 1970's and early 1980's. In 1986 the area added a new triple to replace an aging T-bar.
During the early 1990's the area tried to hype its facilities as being very kid oriented. It was working, families did travel to King Ridge and had a great time. But the winter of 1994-1995 killed King Ridge, and it was sold on the auction block during the summer of 1995.
One of the last of the truly affordable mountains, King Ridge will be sorely missed by all those who skied it.
1961-1962
(1986 Brochure)
King Ridge opens
1964
(Eastern Ski Map)
2 T-bars, 2 tows
2 slopes and 5 trails (novice through expert)
Ski school, patrol, 2 packers
1966
(America's Ski Book)
T-bars, rope tows
495 foot drop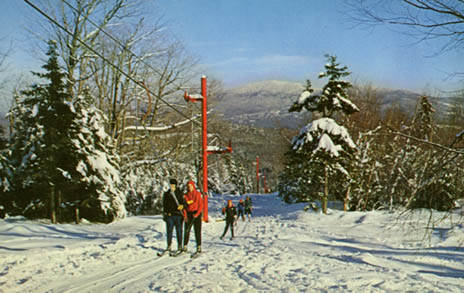 One of the T-bars in the mid 1960's.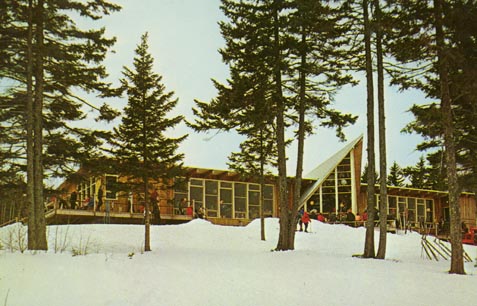 The base lodge during the 1960's.
1969
(Eastern Ski Map)
Double Chairlift, 2 T-bars, 2 J-bars, 2 rope tows
3 slopes, 9 trails (novice through expert)
Ski school, patrol, 3 packers.
1973
(Ski Guide to the Northeast)
Base elevation: 1000 feet
Summit: 1775
Vertical: 775 feet
Exposure: east
Features: Area operates daily, ski shop, area restaurant, snack bar, rentals, warming huts, nursery, 6 lifts (1 triple chair, 1 double chair, 2 T-bars, 2 J-bars) with 6100 per hour capacity. 16 trails, parking for 700 cars. No snowmaking or night skiing.
Ski school: Canadian technique
Rates: Weekday $3.95 adult and junior. Weekend $9.00 adult, $6.00 junior. Holiday: $7.00 adult, $5.00 junior. Reserved weekend skiing Dec. 29 through Mar. 27
1979
(Eastern Ski Map)
Triple chairlift, double chairlift
2 T-bars, 3 J-bars
4 slopes, 12 trails (novice through expert)
Ski school, 800 foot drop
East exposure
1980
(Eastern Ski Map)
Same as 1979
1986-1987
(Brochure)
"King Ridge is better than ever! And we're ready to treat you and your family to a ski vacaation with a real silver lining. Starting with an already great mix of services and facilities, including a variety of skiing terrain for all abilities, a limited lift ticket sales policy and skiing on two seperate peaks, we've expanded nearly every aspect of the skiing experience, all for your maximum enjoyment!"
"New and expanded trails...experienced snowmaking on over 42 acres of terrain...and a new triple chairlift, whisking our total uphill capacity to a a bustiling 7250 rides per hour. Just a few of the suprieses in store for you this season at King Ridge. Then there are the non suprises. Like the eastern exposure of our two main trail networks and the southern exposure of our beginner areas. At King Ridge, we've always made you feel king of the mountain, and for 1986-1987-the kingdom has grown!"
85 inches of natural snow per year.
"King Ridge concentrates on service and programs. It excels at each."-Mike Szostak, sports editior, Providence Journal
"King Ridge does more with its mountain and whatever natural snow it gets than any other ski area its size or larger--or even smaller."-Tony Chamberlain, ski editior, Boston Globe
"King Ridge's experienced snowmaking system covers over 42 acres on 10 trails and 2 slopes, featuring terrain ranging from beginner to expert. Served by a fleet of ultra-modern grooming equipment with dedicated operators."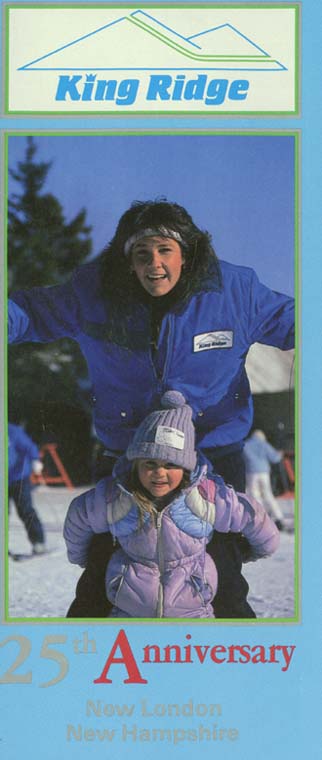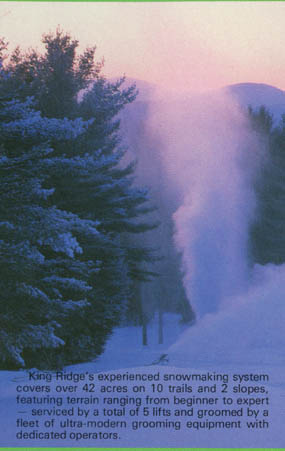 Here's their cover during their 25th year. Snowmaking during that year.
1991-1992
(Brochure)
"King Ridge turns 30!"
Except for that line, everything was repeated for 1992-1993.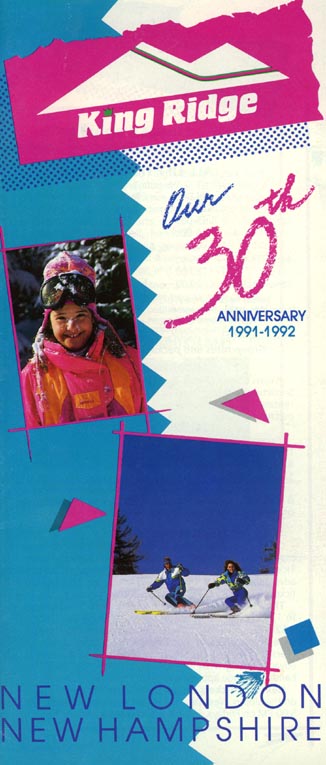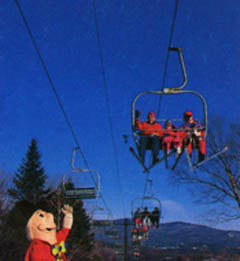 The cover of their brochure during 1991-1992. One of the triples.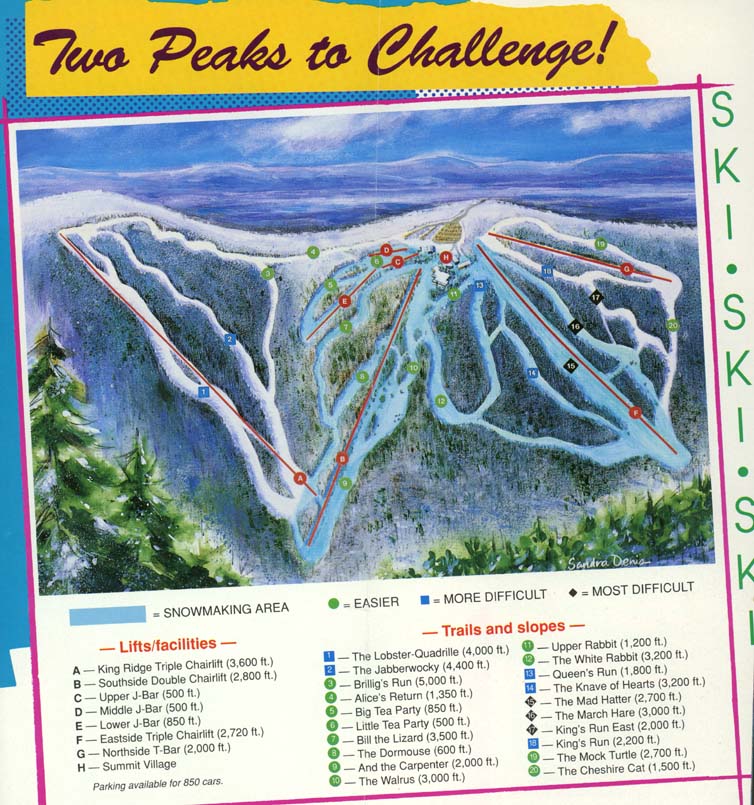 Here's their trail map for 1991-1992. Most trails were intermediate or beginner, with just a few expert thrown in. Lift F was new in 1986 and used to be a T-bar.
1992-1993
(Brochure)
"Come ski the Ridge with us this season as we celebrate 31 years of families and 31 years of fun! Many things have changed at King Ridge since we started skiing in 1961-1962. But a few things haven't: our dedication to a superior skiing experience."
"Our summit village: Our base lodge is actually on the summit! At King Ridge, you drive to the top, park, and ski down. The summit includes two public lodges, a ski shop, rentals, children's center, and child care."
"Tow mountains of fun: King Ridge features a total of 7 lifts, serving two mountains, with a variety of terrain for all levels."
"New England's Best Family Skiing Value."
1993-1994
(Brochure)
"King Ridge is an upside-down mountain where facilities and parking are at the summit, so you family begins and ends their day on top! The King Ridge difference doesn't end with its unique setup. We've turned our programs and facilities upside down to create a better experience for your family.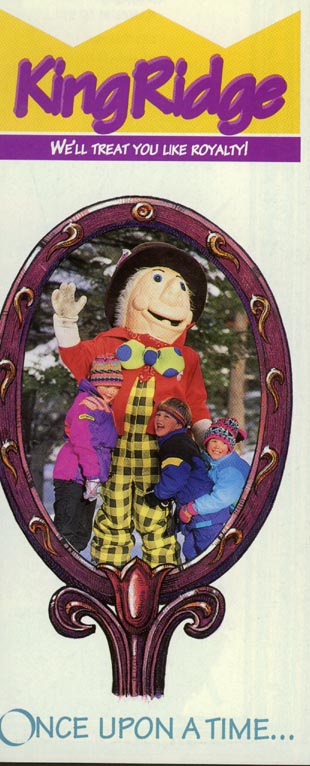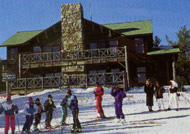 The brochure cover during that year. The base lodge.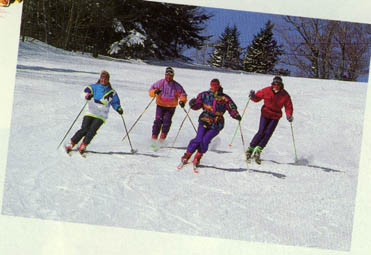 Skiers enjoying the slopes on a sunny day.
1994-1995
(Brochure and articles)
Three new trails, 67% snowmaking increase
We'll treat you like royalty.
Ticket prices:
Adult, $14.95 weekdays and $22.95 weekends
Juniors: $9.95 weekdays and $17.95
The T-bar lift was removed to make a trail this year.
Summer of 1995
King Ridge is put to the auction block. It is eventually sold piecemail, with different resorts buying different equipment. At least one triple went to Ragged Mtn. A true shame it closed! The trails have barely grown in as of 1998.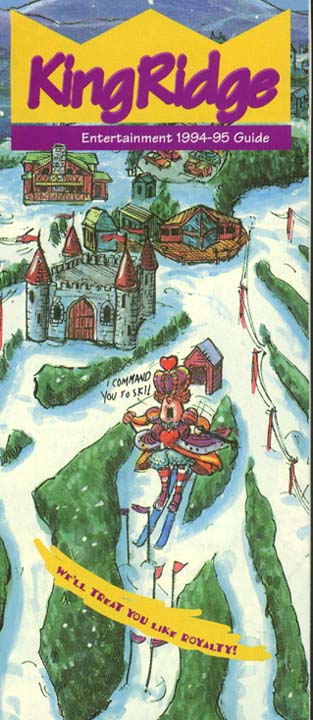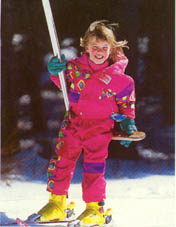 The cover of the brochure for 1994-1995. A child riding a J-bar.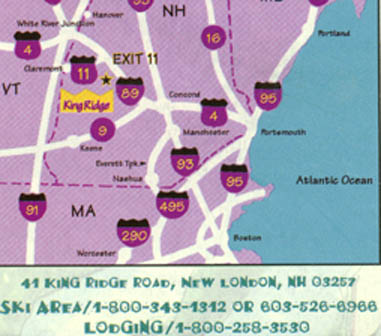 Directions on how to get to King Ridge.