Mittersill Ski Area
Franconia, NH
1940's - Early 1980's
The Taft Ski Trail, a historic racing trail from Cannon, once passed through the area which became Mittersill. Skiers from Austria, fleeing from World War II, developed the Mittersill Resort and incorporated part of this trail into their area. They built a resort, complete with a full service hotel, and added a T-bar lift in the mid 1940's with a vertical drop of 450 feet. The area gradually added slopes and trails, and eventually added another T-bar which added another 350 feet by the early 1960's. Snowmaking was installed, quite early for such a northern area.
The late 1960's saw the addition of a double chair and an increase of 600 vertical feet. This was generally the last major capital improvement to Mittersill. The area closed sometime in the late 1970's and 1980's.
That is, until the early 2000's. That's right, this area will be coming back from the dead! Cannon Mtn., and the state of NH, by leasing Mt. Sunapee will be raising revenue to connect and add lifts at the Mittersill side of Cannon! This could take up to 10 years, but once its done Cannon will be a large area. Maybe I'll have to remove this page in a few years.....
Interestingly enough, Mittersill is only partially closed. It is still open, in a way anyway. You can hike up from Cannon on the Baron's trail, then ski down to Mittersill. Keep turning right, however, or you'll end up at the Mittersill hotel, and thats not where you want to be. By turning right you will end up at the Peabody Slopes at Cannon.
Mittersill by the Year:
1949
(American Ski Annual)
There is one T-bar lift with a vertical drop of 450 feet.
1951-1952
(Eastern Ski Map)
Alpine lift (T-bar), 2 tows, slopes, trails, novice through expert, ski school.
1964
(Eastern Ski Map)
2 T-bar lifts, 2 slopes, 4 trails, novice through expert, 2 packers, ski school, packers, snowmaking.
1966
(America's Ski Book)
Mittersill has T-bar lifts and a vertical drop of 800 feet. No snowmaking.
| | |
| --- | --- |
| The beginner slope on North Slope at Mittersill sometime in the mid 1960's. This was a wide slope, and the trail above is the intermediate Sky Line Trail. | |
1969
(Eastern Ski Map)
Double chairlift, 2 T-bars, 2 slopes, 8 trails, novice through expert, 2 packers.
This is the Mittersill ad and trail map from the late 1960's. Thanks to Dave Hilton who provided this to NELSAP!

1973
(Ski Guide to the Northeast)
Base elevation: 2000 feet
Vertical drop: 1400 feet
Exposure: West
Features: Area operates daily, snowmaking, ski shop, area restuarant, snack bar, rentals, warming huts, nursery, 3 lifts (Double chair, 2 T-bars) with 2200 per hour capacity, 9 trails, parking for 500 cars. No night skiing.
Ski school: American Technique with 18 instructors (9 certified)
Rates: Weekday--$6.00 adult, $4.00 junior. Weekend and holiday--$8.00 adult, $5.00 junior. Season--$150.00 adult, $100.00 junior. 5 day Ski ticket interchangeable with Cannon, Loon, Tenney, Waterville Valley.
1979
(Eastern Ski Map)
Double chairlift, 2 T-bars, 2 slopes, 9 trails (novice through expert), cross country skiing, 2 packers, ski school, NNW exposure, 1500 foot vertical drop.
1980
(Eastern Ski Map)
Same as 1979, no changes.
Thanks to Brian O'Malley for sharing this photo of Mittersil and Cannon with NELSAP: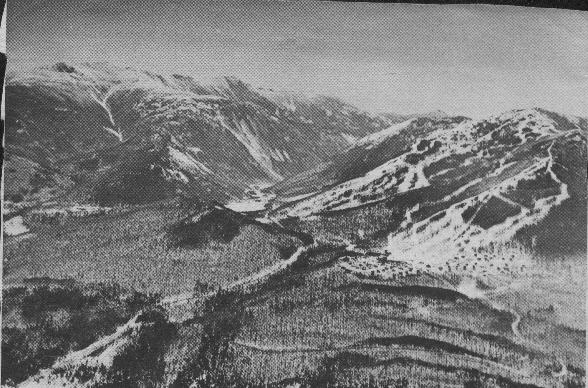 1995
(Personal Visit)
My friend Dave Kirk and I skied here on the only day probably possible in the almost snowless winter on 1994-1995. We hiked from Cannon, on the traft trail, and then hiked up the Baron's trail over to Mittersill. Here's a picture of me walking up that trail.
| | |
| --- | --- |
| We then skied down a very narrow trail to the top of the old double chair. Here it is, it is still standing, the cable is still attached. Thanks to the Franconia Ski Club, these trails are still kept clear. | |
| | |
| --- | --- |
| This is the old unloading ramp to the double, really falling apart. We hiked up it, but figured out it wasn't safe! The double chair ended in a typical building for double chairs at that time. | |
| | |
| --- | --- |
| Here's the Taft Trail....all bumped up. This was a nice trail, but God forbid something happen to you on it, you're in deep, deep trouble! | |
| | |
| --- | --- |
| This was the bottom of Mittersill taken in April, 1998. The T-bar still standing is the much longer one. The original T-bar, now removed, went up through the trails on the right of this. | |
| | |
| --- | --- |
| | Here's a picture that Betsy McDonough took on April 1, 2001 from I-93 heading south through Franconia: Mittersill is the ski area to the right in the photo, with Cannon Mountain looming behind. |
Memories of Mittersill
Mary Ruppert: I grew up in Franconia NH in the 60's (and now live in Lyman, NH). As I child my siblings and I skied at several of the ski areas you list as lost. We spent many a wonderful day skiing at Mittersill - and indeed would ski the snow banks along Route 18 (we call it Three Mile Hill) to our home 2 miles away once the lifts closed. There are also several old ski trails that go from the Mittersill towards Franconia. As youngsters we used to search for these trails without much success. With the wonderful snow last winter these trails came out of retirement, becoming very popular with folks looking for an out of bounds experience.

| | |
| --- | --- |
| Marc B had this season pass in 1978-1979. Neat huh? | |