Temple Mountain
Temple, NH
1937-2001
History ~ Layout ~ By The Year ~ Trail Maps ~ Historic Photos ~ Memories ~ Recent Photos
Many thanks to Jeremy Clark who assisted with the history of Temple Mountain. We have lots more to add to this in the future, so stay tuned. Many NELSAP readers have submitted photos and memories of this area, which we will gradually add to this history. If you have sent in a memory, rest assured we will be getting it on here.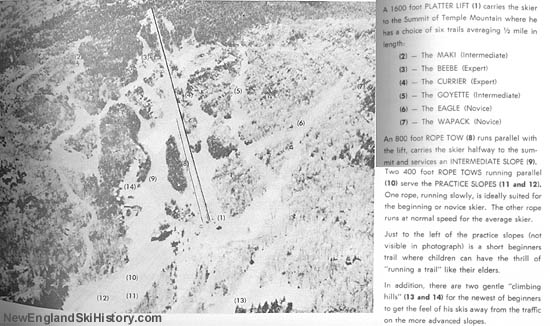 One of the oldest lift served ski areas in New Hampshire, Temple Mountain likely first opened as a rope tow operation in December of 1937 under the ownership of Charles Beebe. The area would generally operate on weekends and holidays for its first two decades.

The base lodge was unique in that it was elevated above the parking lot, requiring a bit of a hike to get to.

In 1958-59, Temple installed a 1,700 foot long STABIL surface lift to go along with a few rope tows and six trails.

Temple became a chairlift-served ski area in 1984 with the installation of a Borvig Quad. A few years later, a used Poma double chairlift (from Mt. Watatic and previously Diamond Hill) was installed to serve lower mountain slopes.

The mountain hit tough times in the late 1990s, as it struggled due to bankruptcy proceedings.

After the 2000-2001 ski season, Temple Mountain was closed and the 352 acre property put up for sale. The ski rental inventory, much of it brand new, was sold to Berkshire East in Massachusetts.

Peak Resorts, in looking for its first New England ski area, briefly considered reopening Temple Mountain. Ultimately, Peak would instead reopen nearby Crotched Mountain.

John and Connie Kieley of Temple Highlands LLC purchased the ski area in 2003. In 2004, the chairlifts were removed. The quad was sold to Nashoba Valley ski area in Massachusetts, while the double was sold to SkyTrans Manufacturing, LLC.

In December 2007 the State of New Hampshire, with some federal funds, purchased the 352 acres from John and Connie Kieley for $1 million after a multi-year effort to dismantle the ski area and preserve the land.



The main mountain was served by rope tows from 1937 through 1958. From 1958 through 1967, a STABIL disc lift provided the primary uphill transportation. From 1967 through 1984, the Main T-Bar primarily served the main slopes. From 1984 until 2001, the main mountain was served primarily by a Borvig Quad. From 1965 until the last few seasons of operation, a Doppelmayr T-Bar served the western side of the ski area. Overall, the ski area advertised a 600 foot vertical drop after the installation of the quad chairlift.
Year
Lifts
Trails
Other Info
Source
1952-53
4 tows
1 slope, 7 trails
Eastern Ski Map
1957-58
4 tows
1 slope, 7 trails
Eastern Ski Map
1959-60
Platterpull, 4 tows
1 slope, 7 trails
Eastern Ski Map
1961-62
Platterpull, 3 tows
1 slope, 7 trails
Eastern Ski Map
1964-65
Platterpull, 6 tows
3 slopes, 6 trails
Eastern Ski Map
1966-67
Platterpull, T-Bar, 4 tows
2 slopes, 8 trails
Eastern Ski Map
1967-68
2 T-Bars, 4 tows
2 slopes, 8 trails
Eastern Ski Map
1977-78
2 T-Bars, 3 tows
3 slopes, 9 trails
Eastern Ski Map
1987-88
Quad chair, 2 T-Bars, 1 tow
3 slopes, 14 trails
Eastern Ski Map
2000-2001
Temple's last year of operation, running the quad, double chairlift, and rope tow.
2010
Both chairlifts have been removed and the main lodge demolished. The trails have quickly grown in.
Click on every map for a larger version.
1973-1974
| | |
| --- | --- |
| This hand drawn map from 1973-1974 shows the layout of the mountain. Note the area had 4 rope tows, two of which paralleled T-bars. Various touring trails are labeled. Courtesy Bill Currier. Note too that the Currier Trail is next to the Main T-bar, named for lift inspector Bill Currier. | |
Historic Photos/Advertisements
An original advertisement for the Temple Mountain Ski tows, courtesy of Ed Taggart. Although it is undated it is quite likely from the 1940's or early 1950's - no T-bars or Stabil Disc Lifts yet!

Note the listing of the 3200' Taggart Trail - named after the Taggart Family. This trail was not previously known to NELSAP.

Ed has more memories:

My family owned a camp of the west side of the Mountain and at a point in time there was a trail named after us "Taggart" which I think became Birch run or was off of Birch run (not sure).. This card was well before chairlifts had been introduced. While I was learning to ski, they only had rope tows and T-bars.. They had Lodges at both East (Main) and West (Jr) sides. Heat was provided via wood stove and had his & her outhouses at each side.



Stabil Disc Lift
All photos courtesy Bill Jenkins. Click on all photos for a larger version.
This Stabil Disc Lift was a prototype for ones later used at Birdseye Mountain, VT. In fact, this lift is an exact duplicate of one that was installed at Burrington Hill, VT. The lift was invented by Stan Whitney and Bill Jenkins. Bill Jenkins also operated at different times High Pond, Birdseye, and Green Mountain College, all in Vermont.

The lift was rather unique in that it was a platterpull, but was much lower than other platterpulls or Pomas. The lift carrier swung out from the cable.

This lift operated from 1958 until 1967, when it was replaced by a more modern T-bar. The lift paralleled a rope tow, which is visible to the left of the liftline in this photo.
| | |
| --- | --- |
| | |
| Base of the lift - note "Tower 0". | Tower 6, with the rope tow in the background. |
| | |
| --- | --- |
| | |
| Tower 7. | Top of the lift. |
Double Chair
| | |
| --- | --- |
| The double chair was installed at some point in the late 1980's or early 1990's. This photo of the unloading ramp was from Nov 19, 1992, and shows a new ramp. This may point to the double chair being installed in 1991 or 1992, as the ramp looks new. The Double was manufactured by Poma. Photo by Bill Currier. | |
| | |
| --- | --- |
| | Counterweight for the Double, Nov 19, 1992. Note the race ramp behind it. Above the race ramp you can see a short section of trail that had been abandoned years before. Photo by Bill Currier. |
You can still ride this double chair, but its a long way from Temple. After it was sold, it was converted into a Sky Ride at the Milwaukee Zoo! Check it out!
Do you have any memories of Temple Mountain? If so, please contact us!
The Base Area

| | | |
| --- | --- | --- |
| The entrance sign (2002) | The base area (2006) | |
The Quad (1984 Borvig)

| | | |
| --- | --- | --- |
| The bottom terminal (2002) | The bottom terminal (2002) | Looking down the top of the quad lift line with Main T-Bar visible (2006) |
The Double (1970 Heron Poma)

| | | |
| --- | --- | --- |
| The bottom terminal (2002) | The bottom terminal (2002) | The remains of the lift line (2006) |
West T-Bar (1965 Doppelmayr)

| | | |
| --- | --- | --- |
| A tower (2006) | A tower (2006) | |
If you have more information on this area, please let us know.
Last updated: August 22, 2013
Head back to Lost New Hampshire Ski Areas