Woodbound Inn Rope Tow
Rindge, NH
Before 1949 - After 1967
The Woodbound Inn area opened prior to 1949. In that year, it operated from December 15 to March 20. It was located between 1200 and 1350 feet of elevation, giving the area a vertical drop of 150 feet. Exposure was to the NW.
Two rope tows served the area, one was 400 feet long with a 100 foot drop (for beginners). The other was 500 feet long, with a 150' drop, for intermediates. Two open slopes were served by these tows. After 1949, no information is available until 1967, when the following photo was taken:

Skier's enjoying the rope tow sometime before 1967.
The back of this postcard, dated December 29, 1967, reads as follows:
"Dear Mom and Dad,
It has begun to snow and everyone is every happy. This afternoon we skied on the large hill for the first time. Beside the rocks it was fine. Steve and Q bought new boots and turned in our old ones for a good price. Steve's skis were cracked when he took them out. We have no idea how it happened, but it was a good excuse to get new ones. We have Pauline for our waitress and all is well.
Mucho love,
Elly"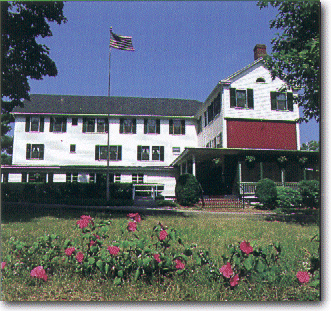 The Woodbound Inn nowadays. Notice that the red square on the right was there in 1967. Looks like a nice place to stay!
Check out the Woodbound Inn's homepage--http://www.nhweb.com/woodbound/
Head back to Lost NH Ski Areas
Head back to the Main Page