Dutch Hill
Heartwellville, VT
1944-1980
We have lots of information/corrections to add on this area, so stay tuned!
1949
(from William Phillips)
William Phillips was kind enough to scan this trail map of Dutch Hill for me. Notice its decent size for the late 1940's.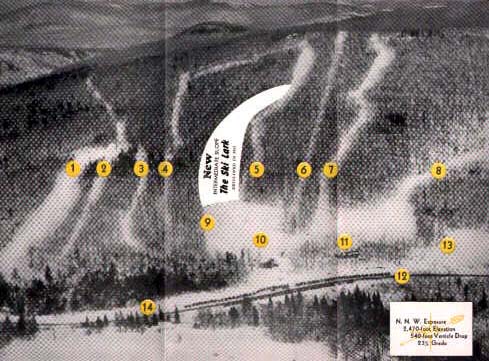 1. Dutch Meadows Open Slope-Novice | 2. Rope Tow-novice | 3. Dyke Trail-Novice | 4. Yankee Doodle Trail-Intermediate | New Trail "The Ski Lark" Intermediate | 5. Christiana Trail-Expert | 6. Alpine T-bar Lift, capacity 800 per hour | 7. Windmill Trail-Expert | 8. Dutchmans' Holiday Novice-Intermediate | 9 Ski School Slopes-Classes Daily | 10 The Lunch Rock | 11. Dutch Boot | 12. Parking | 13. Small Practice Slopes | 14. Vermont Highway Route 8 | 15. parking |
1951-1952
(Eastern Ski Map and North Adams brochure)
Here's the ad that appeared in the North Adams brochure: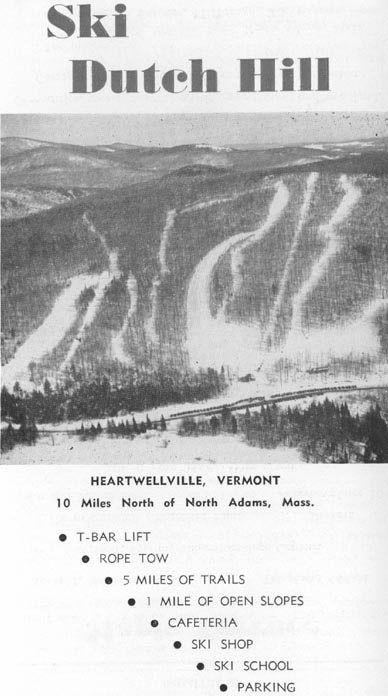 This is similar to the trail map above, except the Ski Lark trail is shown as a real trail.
Here's another ad for the Dutch Oven Ski Shop from 1952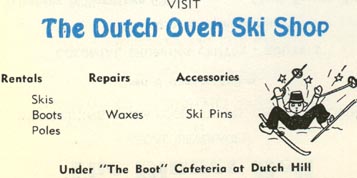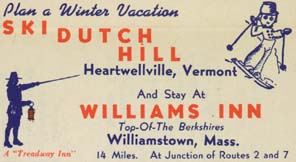 Here's the ad that appeared in the Eastern Ski Map.

1954
(Vermont Life)
The following is a paraphrase of an article written in 1954 by J. Howard Buffum, Jr., for Vermont Life.
Webster Ottman had an idea in 1943: to open a "Little Stowe", closer to southern Vermont. He found it in Dutch Hill. During the 4th of July in 1944, the first trails and slopes were cut on Dutch Hill. The Dutch Hill Ski Area, in Heartwellville, VT, opened on November, 1944, with several slopes and trails served by a 1000 foot rope tow. Things were ran rather hapharzdly at first, as the small lodge had no running water or electricity. The area changed in management, but the goal remained the same, to develop this area into a fine ski center. A Constam T-bar was purchased, and on January 4, 1947, the first skiers rode up this 2000 foot long lift.
This lift could only haul 600 skiers per hour, and many of the trails it served were rough and unfinished. Traffic was a mess, and the lodge was cramped. No matter, the 102 days of skiing provided many with hours of enjoyment. The season lasted from New Year's Day to around April 1st. In 1948, the parking area along the highway was increased in size and a 14,000 gallon water storage reservoir was installed.
Over the next few years, the Dutch Meadows slope was widened and graded, and the original rope tow was reinstalled. This beginner slope was 1400 feet long and 200-300 feet wide. The new tow pulled 1,000 skiers per hour at 12 to 14 miles per hour. In 1949 a bigger motor was installed to the T-bar and more T's were added so its capacity rose to over 800 skiers per hour.
The base lodge had some character. It was named the Dutch Boot, and had a massive fieldstone fireplace. There was a Dutch Oven Ski Shop, first aid room, and restrooms. It even had an area so that skiers that brought their lunches could sit and eat.
The most popular ski trail is the Dyke, the mile long novice trail which passes over the top of Dutch Meadows, giving skiers a chance to break off onto other trails. On the opposite side of the hill is the Dutchman's Holiday, a 1.5 mile novice-intermediate trail. In between these two trails are the 3/4 mile Yankee Doodle (int.) and the expert Christiana and Windmill trails. Off of the Christie trail is the 0.4 mile long Ski Lark, a wide intermediate trail. In 1953 the Ski Lark and Yankee Doodle trail were smoothed out. The upper part of Dyke was also smoothed out, as well as the Dutchman's Holiday.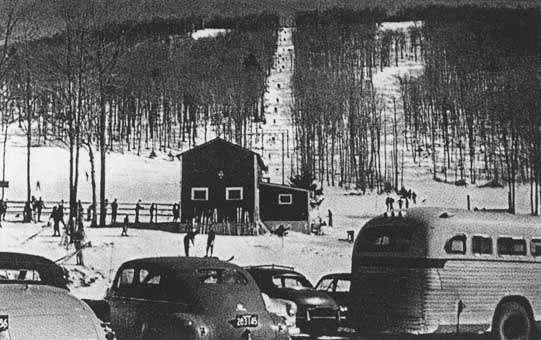 Dutch Hill as it appeared in 1954. This is taken from the main road at the base,
and shows the parking lot, Constam T-bar, and several slopes. (VT Life Magazine)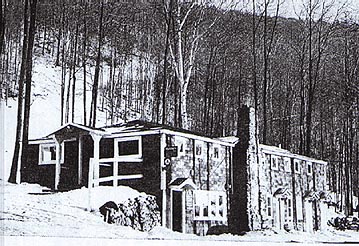 The Dutch Boot base lodge and cafeteria in 1954 (VT Life). Notice the large fireplace.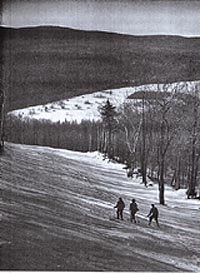 Skiers partway down the Yankee Doodle expert trail in 1954. (VT Life)
Dutch Hill certainly sounded like the place to be. Unfortunately, all these good times were to come to an end about 30 years later. Although information is sparse between the mid 1950's and mid 1980's, the following sources were found.
1957
(Vermont Life Article)
A new J-bar is installed on the Dutch Meadows slope, "ideal for mother's and children." A single ride on the T-bar was only 40 cents!
"Dutch Hill plans this season to enlarge their cafeteria, build a new warming building for their novice area, and install a new J-bar. They plan to hack out more parking."
1964
(Eastern Ski Map)
Lifts: T-bar, J-bar, Tow
3 Slope, 5 trails.
3 packers.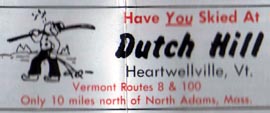 An ad in 1964. Have You Skied at Dutch Hill?
1966
(America's Ski Guide)
Vertical drop: 570 feet.
1968
(unknown ski guide)
Sometime between 1964 and 1968, another rope tow was installed tandem to the older one.
Lifts: T-bar (2000'), J-bar (1400'); 2 tows (400' each)
5 trails, 2 slopes (did it shrink since 1964--I don't believe so).
Rates: $5.00 adult, $3.00 junior
Operates: daily
Phone Number: 1-802-423-5312
1973
(Ski Guide to the Northeast)
Betwen 1968 and 1973, the area decided on operating on weekends and holidays only.
Base elevation: 1900 feet
Exposure: Northwest
Features: Area operates weekends and holiday weeks only, ski shop, snack bar, rentals, warming huts, 3 lifts (T-bar, J-bar, 1 rope tow) with 2,000 per hour capacity. 8 trails (so none added from 1964 to 1973), parking for 500 cars. Family area, novice open slope. No snowmaking or night skiing.
Ski School: Michael Catrambone, Director American Technique. 12 Instructors, with 2 certified.
Rates: Weekend and holiday $6.00 adults, $4.00 juniors. Season rates $90.00 adult, $80.00 junior.
1977
(From The Colorado Skier)
Dutch Hill changes its name to Dutch Mountain.
1979
(Eastern Ski Map)
Apparently one trail was added from 1973 to 1979.
Operates weekends only, T-bar, J-bar, rope tow. 3 slopes and 6 trails. 3 Packers.
1979-1980
(Also from the Colorado Skier)
Dutch Hill closes. They are listed for sale in 1980.
1992
(From Microsoft Terraserver, USGS)
In 1992 a satellite took this picture of Dutch Hill (or mountain). Notice that in 12 years of being closed, most of the trails are still quite visible. The mountain should be seen as looking from left to right, as the road on the left is the main rod, and the top is on the right. Dutch Meadows is the large slope at the top of the map. The J-bar line is right below this. The rope tow can't be seen but it is on Dutch Meadows. Also, the T-bar line can be seen barely, as it is below the second main slope. The long winding Dyke trail can be seen going from SW to NE in this map above the T-bar, then curling down to Dutch Meadows.
Dutch Hill as it appeared in May of 1992, thanks to the USGS maps on Microsoft's Terraserver.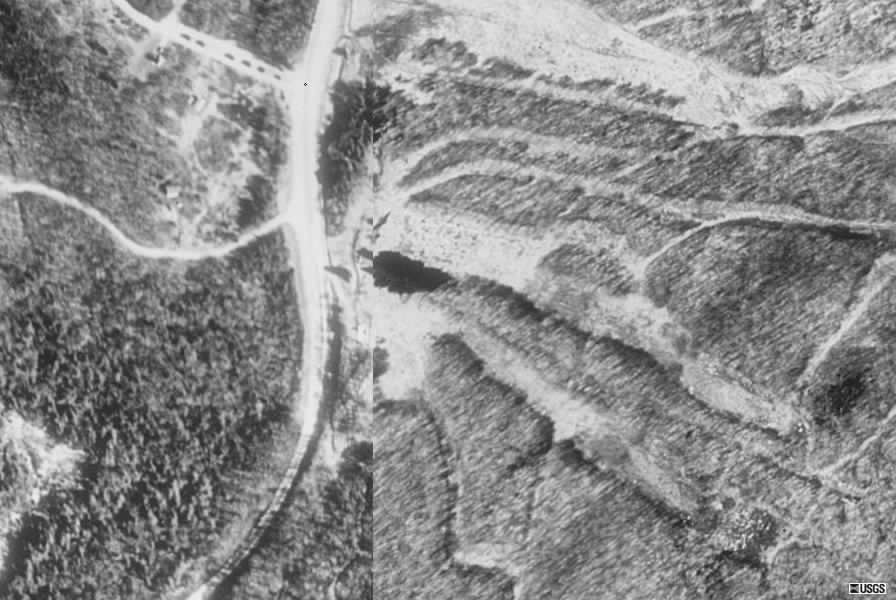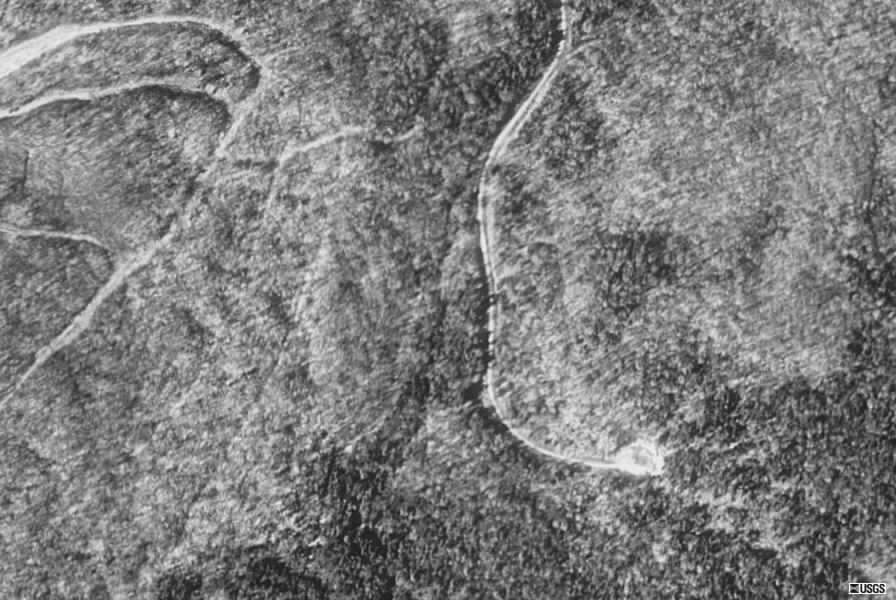 Today
(From personal tour of area)
Sad to say it, but this area has really degraded. It's rapidly returning to the wild environment that it came from. First off, all buildings have been torched. The small base building on Dutch meadows is nothing but a foundation. An old "For Sale---Ski Area" sign can still be seen on a post, next to a No Trespassing sign. Dutch Meadows has only grown in a little. Most of the J-bar is gone, but a few towers remain.
By the main base lodge, the T-bar building shown in the first picture was also torched. Most of the T-bar has also been removed, but a few towers remain. Trails in this side have overgrown quite a lot.
Even the main base lodge is gone, except for its magnificent fireplace. A fitting remnant to what appeared to be a fun little area, that strived to be a little Stowe.
It's here...Summer 1998!
These pictures were taken in June of 1998 when my friend Chris Seneta and I scoped out the area. Check out what's left!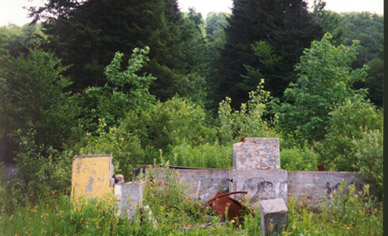 The T-bar base building and lift line. The foundation is of the building that appears at the top of this page.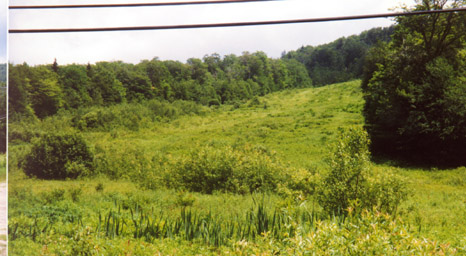 Dutch Meadows beginner slope. The J-bar would be just to the right of this photo. Looks like somebody's been mowing the grass!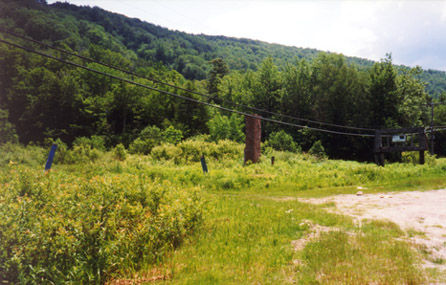 The Dutch Meadows from the road, looking up towards the Windmill Trail. The chimney is what was left of the warming hut at the base of Dutch Meadows.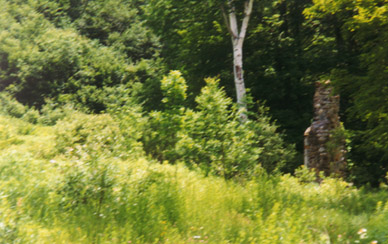 What is left of the Dutch Boot Lodge. Just its magnificent fireplace, which is cou can see in the picture above from the 1950's.
Head back to Lost VT Ski Areas