Hogback Mountain
Marlboro, VT
1946-1986

Introduction ~ Full History ~ Historical Articles ~ By the Year ~ Memories ~ Historical Images and Maps ~ Comparison Photos ~ Recent Photos
This page on Hogback is a work in progress, and will be updated with more information in the near future.
Hogback was one of the longest lasting, classic family ski areas in the state of Vermont. Operating from 1946 until 1986, hundreds of thousands of skiers enjoyed its trails and slopes over the years. It is located approximately 16 miles west of Brattleboro, Vermont, and was easily accessed by Route 9. Several mountain faces were available for skiing, each served by their own lifts, giving the area a wide variety of ski terrain. Increasing insurance rates in combination with competition from nearby resorts led to the area closing in 1986.
The Hogback Mountain Conservation Association worked hard to purchase the land and preserve it from development. They succeeded in 2010, transferring the property with conservation easements to the Town of Marlboro. The land is now open to the public. For more information visit www.hogbackvt.org.
Today, Hogback is arguably one of the best lost ski areas in Vermont to explore. Now owned by the town of Marlboro, most of the ski lifts remain on the property, along with various buildings. Trails are semi-clear, as volunteers continue to keep some of the trails open and available to cross country skiers, backcountry skiers, hikers, and snowshoers.
Coming soon.
(Vermont Life Article by Frederick F. Van De Water)
The following is a direct quote from the 1947-1948 article.
"Sixteen miles to the west of Brattleboro, over the Molly Stark Trail to Bennington, the former town's most impressive contribution to winter sport is growing on the ridge of Hogback Mountain. The hill, with an elevation of 2100 feet, lies well within Vermont's area of greatest snowfall. An average of 120 inches is laid down upon it each winter. Here a T-bar lift has been constructed, with a capacity of 900 skiers an hour. Novice, intermediate, and expert trails have been created and yearly are being improved.
The broad, white pathways, curving downward almost a mile through darkling evergreens, may appear perilous to the uninitiated but even the most precipitous is not dangerous for the average, competent skier. The sponsors of Hogback hold to the belief that the most fun for the least injury is a praiseworthy goal. They are moving intelligently toward it. New trails and a larger schooling area have been provided this year. Further improvements are planned for subsequent years. Skiers will be flashing down the Ripperoo and other ominously named runs on Hogback in increasing numbers this winter. Others less venturesome will be thronging to the Brattleboro and Vernon rope tows."
1969
(Vermont Life article, by Michael W. Seely)
"Hogback considers itself the biggest little area in New England. Its a good place for the skiing family, with one of the most exciting views in New England."
"Largely the personal venture of Harold and Arnold White when it began in 1946, the ski complex is now owned by a local corporation headed by John L. Dunham. There are about 90 shareholders, most of them reside in nearby Brattleboro.
"Dunham thinks that the smaller areas definitely have something unique to offer the family."
" ' There is a more pleasant atmosphere, with none of the Coney Island effect that apparently applies to some of the larger areas', he remarked. 'We're a family area where everyone is most friendly. We have a long list of season ticket holders who are here each weekend. At Hogback, everyone seems to know everyone else.' "
"If business is prospering here it's for good reason: 13 trails, ranging from a few hundred feet to half a mile, are serviced by five lifts, including three T-bars. The daily weekend charge is $6.00 for adults, and $3.00 for juniors. The capacity for each lift is about 1,000 skiers per hour, insuring very short lift lines, even on peak weekends. In addition, a ski school staffed by six instructors offers instruction in American Technique."
(Rutland Herald--October 10, 1986, by Ann Marie Christensen)
"Insurance Costs Sink Ski Area"
The following are clips from this article that explained why the area closed.
"Liability insurance has claimed its first victim in the ski industry, Hogback Ski Area off Route 9 in Wilmington."
"Carter Chamberlain, Hogback's accountant, said Thursday that the cost of liability insurance would amount to more than the small ski area took in last year. 'We're a small family area and only took in $60,000 to $70,000 last year', he said. 'If we wanted good coverage it would cost over $100,000.' "
"This would be the first time that the area didn't operate since in 1947. Hogback had the most reasonable prices in the state, White said. Last year adults could ski for $10.00, the cost for children was $8.00, and anyone could ski for $5.00 midweek. The ski area offered free lessons and skiing to children in the Marlboro Elementary School and the Halifax school."
"The ski area, which relies solely on natural snow, has been for sale for several years. It was sold to a lawyer from Texas five years ago, but White said he had to take it back."
Year
Lifts
Trails
Other Info
Source
1946-1947
1 T-bar, 1 rope tow
7
Year area opens
Several
1947-1948
1 T-bar (900 skiers/hour capacity),
All abilities
Elevation of 2100'
Vermont Life
1957-1958
Lifts serve 4080 skiers per hour.
NE Exposure, Razorback Trail is described as "decent". 460' vertical drop.
Hogback is described as a "family" mountain, with a wide variety of trails. 1200 skiers on weekend days. There was a weekend bus service from Brattleboro to Hogback for just $1.00. Wonderful spring skiing can also be found with its northeast exposure. Season tickets were $40.00 for an adult.
Vermont Life
1962
--
--
Now the "Short Ski" capital of Vermont
Vermont Life
1964
Pomalift, T-bar, 2 rope tows
3 slopes, 11 trails
Ski school, packers
Eastern Ski Map
1968
3 T-bars, Pomalift, rope tow
3 slopes, 11 trails
Ski school, $5.00 adult weekend, $4.00 weekday, exposure NE to SE. Operates daily
Ski Guide
1973
4 T-bars, 4300 skiers per hour capacity
13 trails
Parking for 500 cars, operates daily, ski shop, restaurant, snack bars, rentals, warming huts. No snowmaking or night skiing. $6.00 weekday, $4.00 junior tickets. Season pass: $75.00 adult, $50.00 junior
Ski Guide to the Northeast
Mid 1970's
Same
12 trails and slopes
Rates: Weekends-Adults all day $7.00, mornings $5.00, afternoons $5.00. Children-All day $5.00, mornings and afternoons $4.00. Weekdays-Adults $5.00, Children $4.00 Season tickets: $90.00 adults, $170.00 man and wife, $65.00 children, $260.00 family
Brochure from Ed Leary
1979
4 T-bars
14 trails
Ski school, packers, 500' vertical drop
Eastern Ski Map
1981-1982
4 T-bars
14 trails
Lift rates for weekends: $12.00 adult all day, $9.00 half day. Children $9.00 all day, $7.50 half day. Weekdays: $7.50 adults, $6.50 adults.
Gift shop info: The very best Vermont products-cheeses, maple syrup and candy, wooden saladware, ceramic pottery and carvings. Gifts and souvenirs from England, Scandinavia, Bali, Mexico, and Latin America. Large selection of beautiful deerskin-gloves, shoes, wallets, and even key chains. Skiers will enjoy are large selection of skiwear, gloves, socks, hats, mittens and gloves. Large jewelry department. Write for free brochure.
Brochure (courtesy Ed Leary)
1985-1986
4 T-bars
14 trails
Last season. Closes due to high insurance costs.
Rutland Herald
Early 1990's
--
--
Plans were developed to redevelop the area, but did not go through
Article
1997
--
--
Ascutney considered reopening the area, but this did not occur.
AP
2006
--
--
Hogback Mountain Conservation Alliance formed to preserve the ski area, fundraising continues to protect the property from development
Hogback.org
2010
--
--
Area is purchased and is now owned by the Town of Marlboro, ensuring passive recreation and conservation of area's resources for years to come
Hogback.org
2012
--
--
Some trails such as the Sugar Slope are partially cleared for backcountry skiing. Some trails very overgrown such as the Great White Way, while others are semi-clear. Most lifts and operator's huts are somewhat intact. Quonset hut still standing. Alpenglo building still standing and for sale. Practice slope T-bar bridge over Tower Trail has foundational structure intact, but many boards missing.
Visit to area
Scott Cole has some great memories of Hogback that he shared with NELSAP:
"I though I would share a few quick thoughts about my skiing experience

growing up at Hogback Ski Area in Marlboro, Vermont-from 1968 on.


In all of Vermont's ski history, I truly believe that there couldn't have

been a better family mountain to grow up skiing at than Hogback Ski Area in

Marlboro. It is still there, but has not been operating for some 20 years.

One mile away. That's how far my family's old VT farmhouse was. It would

have been child abuse if my parents did not haul all five of us kids up there

to ski over the years. It was in our back yard. The ski area covered some 500

+ acres on 12 or 15 trails spread out with 4 T-Bars and two rope tows. We

knew all the lift operators, ski shop workers, cafeteria workers not to

mention knowing all of the trails and the little nooks and crannies of that

mountain. We were in our own "ski fantasy" world while there playing on the

hill. Trails like Bobcat Alley truly had bobcats on it and you had to race

down it for fear of being eaten alive. The Great White Way was the biggest

and widest trail in the world, or so we thought when you are only 7 or 10

years old. I clearly remember tower four, riding up the Practice Slope Tee

bar, you could catch some big air if there was a good bump in the track going

up. Those T- Bar springs were powerful and we were little. Our parents had no

worries about all five of us careening all over that mountain. We knew where

the lunch bag was and our parents knew everybody at the area.

The world in

Marlboro VT in the late sixties and early seventies was different. Kind of

like a Norman Rockwell painting, serene safe, comforting, fun. Arnold

White, who owned the Mountain, must have given the five of us thousands of

pieces of bubble gum out of his jar on the counter to keep us happy over the

years. Not to mention the bottom less cups of coco that were passed our way.

Everyone looked after you there.

Not only was Hogback the best family

mountain, it was the community's mountain as well. Outing clubs from

Brattleboro came up to ski there, the local Marlboro School was given free

rein of the mountain for the entire school on Fridays during the

winter-including rentals if needed.

Not only did this awesome family mountain

serve all the local VT families well as a place of recreation; it also

produced some exceptional ski racers. The likes of Sally and Sue White

(Arnold's daughters), and the Mumford's, Kim, Boomer and Peter turned out to

be high caliber racers at the college, national and world circuits.

One of my

sisters and I went back to Hogback a few winters ago and trekked over the

trails on our backcountry skies. The over grown trails, the signs, the lodge

are all still there, so were all those memories. Thank you Hogback Ski

Area/mom and dad/Arnold White for giving us those memories at such a great

old VT ski area.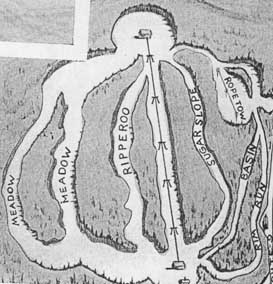 1947-1948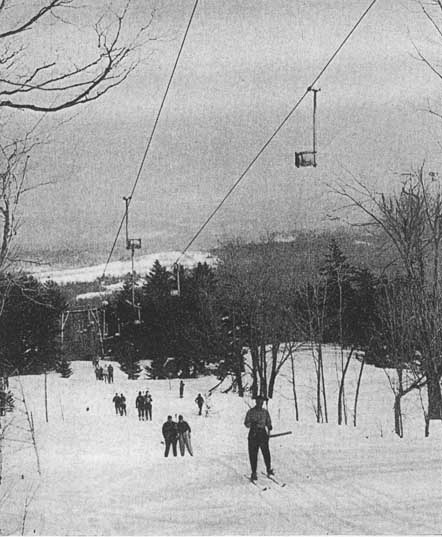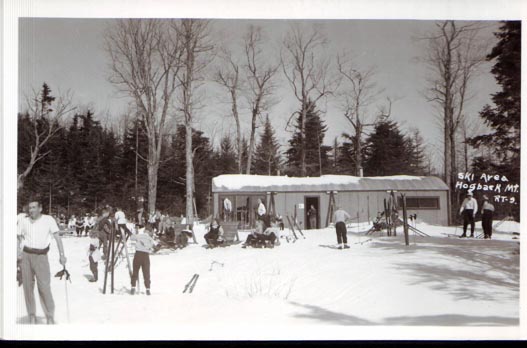 Quonset hut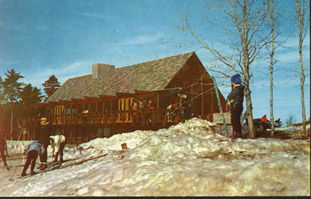 The Alpenglow Restaurant at Hogback in 1962.
From this postcard, Dec. 30, 1962. -"Hi. Sun is out bright today, when they plowed the road last nite (after we were in bed) they plowed us out a place to put the car, too, in the yard. Very nice, what? We're in the car now going to town then up to Hogback, supposed to get to -15 tonite. Brrrr. Love, BA"
You can see a new T-bar on the right in 1969. This is visible today right on Route 9. The picture on the right is the exact same spot taken in December 1998. This is near the number 20 in the trail map from the mid 1970's (below).
Mid 1970's
(Thanks to Ed Leary for providing this brochure with a trail map from 1975-1976)
This was the trail map from the mid 1970's all the way through the mid 1980's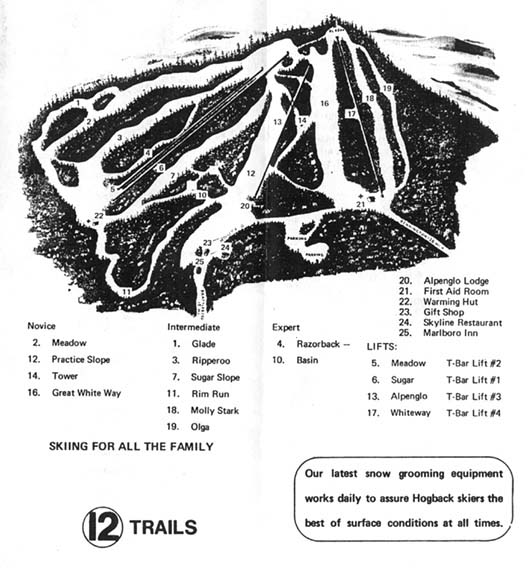 This trail map was likely used all the way until they closed in the spring of 1985. You can see that the ski area was quite well developed, with several different exposures and many trails. Notice that there is no number 8 or 9 trails...this were likely closed for some reason, maybe erosion. However, you can see where they were on the map, right above the number 10 trail (Basin Trail). The trail map shown at the top of this page is the far left area on this map. Lift #5, the Meadow T-bar, was the original T-bar. All of the trails from the mid 1940's are still there on this trail map. The rope tow from the mid 1940's was near the 13 in the above map. Another T-bar was installed sometime between 1965-1970 right next to the Meadow T-bar. You can view lift #17, the Whiteway T-bar at the bottom of this page.
Here's some snippets from their brochure:
"Our latest snow grooming equipment works daily to assure Hogback skiers the best of surface conditions at all times."
"Snow and fun you can easily afford"
R
How you really ski for less at Hogback:
1. Avoid lift line waiting.
2. Parking much closer to slopes is easier for all.
3. Join smaller, intimate ski classes.
4. Find food more sensibly priced.
5. Avoid traffic jams.
6. Discover more scenic trails and slopes.
(from personal tour March 1998)

1998
In 1998, I visited passed by Hogback and took the following photos. At that time, many of the trails were mostly clear. Amazingly, the ski area is in relatively good shape.

The first aid building in March, 1998.
You may be able to read the "Hog ack" sign above the garage door.

This is the Whiteway T-bar. The trail to the right is the Molly Stark.
| | |
| --- | --- |
| | The Alpenglow Restaurant Building (which was a gift shop at that time) in December, 1998. |
| | |
| --- | --- |
| Practice Slope and T-bar, Late 1960's. | Practice Slope, 1998. Note the T-bar lift line on the right. Some towers removed, but some remain near the summit, above the skier's bridge. |
Coming soon.

Head back to Lost Vermont Ski Areas
Last updated: July 12, 2013