Prospect Mountain
Woodford, VT
1939-1994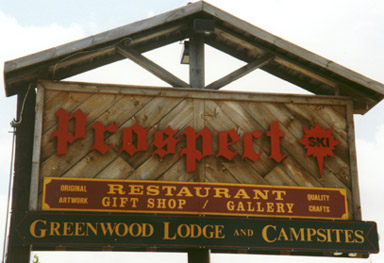 Prospect was one of those last areas that had no chairlifts that managed to survive into the 1990's. Located in Woodford, VT, at a very high base elevation of over 2200', this area relied on natural snow. Prospect opened in 1939 with a rope tow, but took until 1960 before a much longer T-bar was installed to the summit. The mountain closed in the mid 1990's. Today it is run as a cross country ski area.

Prospect by the Year:
1939
(Ski Vermont! A Complete Guide to the Best Vermont Skiing)
Prospect opens with a rope tow.
1960
(Ski Vermont!)
Prospect begins a major expansion program due to the increase in highway traffic.
1964
(Eastern Ski Map)
Lifts: 2 T-bars, 1 rope tow
Trails: 3 slopes, 5 trails (novice through expert).
Ski school, packers.

An ad that appeared in 1964's Eastern Ski Map.
1964
(Vermont Life article sent by NELSAPPER Betsy McDonough)
Here's a great shot of a unknown trail at Prospect. This looks like a perfect day to ski, as there is new fallen snow and the conditions look great!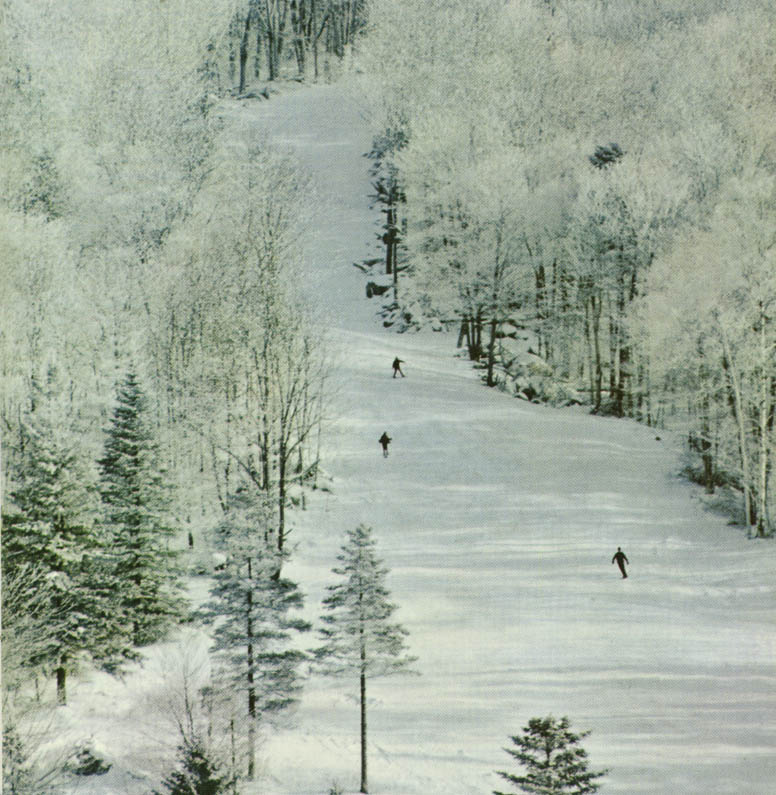 1968
(unknown ski guide)
Base elevation: 2250'
Vertical Drop: 676', exposure: Northwest
Lifts: 2 T-bars (3200' and 1200'), Rope Tow (800')
Trails: 7 (novice through expert), 3 Slopes
Ski school
Rates: Adult $5.00, Junior $4.00, operates daily except Tuesday.
Old phone number: 1-802-464-3942

1970
(Dave Hilton)
Dave took this photo in 1970 from the parking lot at Prospect. The two T-bar lifts can be seen in the center of the picture.
1973
(Ski Guide to the Northeast)
Features: Area operates daily, ski shop, area restaurant, snack bar, rentals, warming huts, 3 lifts (2 T-bars, 1 rope tow) with 2100 per hour capacity, 9 trails, parking for 500 cars. No snowmaking, no night skiing, no ski school.
Rates: Weekday: $5.75 adults, $4.25 junior. Weekends/Holidays: Same as weekday. Season: $70.00 adult, $45.00 junior.
1991
(Ski Vermont!-A Complete Ski Guide to the Best Vermont Skiing by Jules Older)
The following are direct quotes from the Prospect Mountain section of this book.
"Begun in 1939 as a local rope tow, the area blossomed in 1960 when the highway from Bennington was widened to three lanes. Bennington contractor William Morse bought the ski area, and, using his company's equipment, built the parking lot, made new trails, and put in the major T-bar. For almost 20 years Morse rant he area."
"Joe Park's decision to remain a smaller, more informal, with an older, patched up base lodge, should suit families in search of a casual atmosphere with varied terrain and excellent skiing."
"Beginners can start on the small rope tow, run out of a 1930 international truck parked backwards. Others can advance to the smaller T-bar, which goes a third of the way up the slope, or to the 3000' T-bar which gives a choice of four main downhill trails, a mile or more in length. All trails are named for some aspect of the Battle of Bennington. Beginners will want to take the gentle Seth Warner trail. The John Stark is a swooping intermediate, and Cannonball and Yankee Courage are for the experts."

1992

Prospect as it appeared in 1992, after just closing. (Microsoft Terraserver). You can see the main T-bar lift line cutting across from left to right, with a smaller T-bar just above it on the left side. Most of the trails had character and wound across the natural contours. The beginner slope is at the lower right of the main mountain.
Memories of Prospect
My father, Robert W. Martin, was the Patrol Director there from 1960 to 1981. I patrolled there, starting as a junior patrolman in 1973, continuing until I finished college in 1981. Great family area. Lots of good memories.

- Scott C. Martin, Lieutenant Colonel, Medical Service Corps, United States Army

Ira Morris has written a terrific first hand account of the area: I started my skiing life at Prospect Mtn. and skied it frequently from '69-'71- and occasionally thereafter. I'm about 90% sure the 1964 photo is of the "Ethan Allen" trail (I believe it was later named "Yankee Courage") - it was the steepest hill on the mountain - a relatively straight shot down the mountain to the skier's left of the summit T-bar. I think you could confirm this by comparing the position of the pine trees on the skier's right side of the trail in the two pictures - the one from 1964 and the one from 1970.

This was very much the local folk's ski hill - most of the traffic was from Bennington (like me) but busy weekends would attract folks from northern Mass. and especially the Albany/Schenectady/Troy area (check that parking lot out, it's BIG for a little hill); my sister was friendly with a girl whose family was from Connecticut. On Holidays lift lines could get very long. The Prospect Mtn. Ski Club out of Bennington made lifts and lessons very affordable for families - it was how my sisters and I started. The elevation made good snow very reliable, but the lean snow years in the early 70's sent many locals to the Berkshires and north to Bromley and Stratton for trails with snowmaking. The place was sold in the mid to late 70's to Joe Parks and kept going, perhaps relying on the strength of the X-country facilities?

The mountain was divided into three sections. The "1/3 T-bar" as it was called (on the skiers right next to the top of the mountain T-bar), served the lower mountain trails (all of which could be easily accessed from upper mountain trails). You were permitted to unload the longer T-bar at the "1/3" level or the "2/3" level - this second level had two connecting trails that took you across the mountain to either side.

The terrain was very novice-intermediate friendly, but looking back, a lot of very good skiers got their start on that mountain. The Seth Warner trail (way to the skier's right) was as good a novice run as you'll find. It had all kinds of character, including a long run out 1/2 way down the run that ended with a tiny and completely non-threatening 75-100 ft. long glade. In the mid to late 70's they cleared out the woods just to the skiers' right of the T-bar, the steepest terrain available, and called it the "Glade" - supposedly it went to the 1/3 level of the mountain, but there's a question in my mind about whether anything more than the section from the top down to "2/3rds" was officially a trail. I only have skied the top section, and it was a helluva good run - right on par with "Twilight Zone" at Magic although much shorter. It was not near the challenge of "Paradise" at Mad River Glen or the original gladed version of "Downdraft" at Killington.

The flat beginner hill was ideal for beginners- and you actually could get enough momentum to do plenty of turns. I taught skiing for 15 yrs, and as far as I'm concerned EVERY beginner hill should be like Prospect's - although I'd be happy to lose the rope tow.

The T-bars were pretty slow (as always) but seemed to be functioning well (as always) the last time I skied it in March of 1987. I think all the trails are still being mowed. There seems to be no market whatsoever for hills of this size, but if they were viable, I bet Prospect could be put back in working order faster than 99% of the mountains on your website.

Brad Hopson: Just looked at your site and found the link to Prospect Mountain. Wow, does that bring back memories. Our family went to Prospect every Saturday and Sunday from 1961 up until around 1970/71. My dad, Jack Hopson was a member of the ski patrol for several years. About six other families that were friends of ours in Latham, NY were there for the same period of time. That was our life in the winter for 10 years. What a great family experience. Everybody knew each other, babies could be left in the porta-cribs in the lodge since there was always someone from the group around.

Mark McGuinness: What a treat it was to read about Prospect Mountain! My brother Bill turned me on to the site and shared his e-mail to you with me. It seems he got just about all I remember as well. Your site mentions Bob Martin. Boy I remember him well. He would follow us ( a rat-pack of 10-15yr olds) around with his mates and smash every jump we ever built!! It was such a blast to try and stay ahead of them! He taught us all a lot about respect for other skiers and of the mountain in general. Lessons that seem to get lost in this day and age. You mentioned some good skiers that came out of that area, a couple I skied with a ton were Jason Ford (awesome skier turned awesome snow-border) and Erin McGovern who is an extreme skier now.

Today

Prospect mountain most likely closed after the 1993/1994 ski season. This was most likely due to the owner's decision, as the owners had wished to focus more on the cross country ski area located on the property. Because it has been closed for only a half decade, the area is generally preserved enough so that it has much to offer.

During the summer of 1998, my friend Chris and I visited this area. The huge sign on Rte 9 in Woodford is still there, looks like it was still open. The base lodge area was interesting. Prospect's theme was like an Old West town. The lodges look straight out of a western. In fact, the stream that flows through there looks like it belonged in a Wyoming travel guide. Certainly interesting. Most of the lodge buildings are in decent shape, mainly because it is still run as a cross country ski area.

As for the mountain...the beginner rope tow has been removed, although the wheel hubs and top lift shack are still standing. I was amazed that the slope was steep enough to actually gain enough momentum. Both the main and smaller T-bar are still standing, and look like you could turn them on and they would work. Some actual T's were still around.

The trails were barely grown in. Only a few years of growth clogged the T-bars a little bit.

Certainly worth a visit if you're nearby.

Pictures of Prospect from June, 1998

These pictures are from June 1998 when Chris Seneta and I visited prospect. It hasn't changed too much since closing in 1991.


| | |
| --- | --- |
| The rope tow slope. Its almost flat! | |
| | |
| --- | --- |
| | The dual T-bars. Lift line is clear and in good shape, with just a little tree growth. |
| | |
| --- | --- |
| The view from the parking lot, just about the same place that Dave Hilton took his. Slopes are still clear. | |
| | |
| --- | --- |
| | A sign near the base lodge. |
2002
Gary Graff took this great panoramic view of the mountain in the Fall of 2002.

Head back to Lost VT Ski Areas