Glebe Mountain Farm
Timber Ridge
Timberside at Magic
Windham, VT
Mid 1960's-1981, 1982-1985, 1986-1991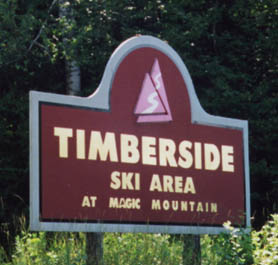 Brief History Full History Memories
Brief History:
Timber Ridge, a small ski area located in Windham, VT, has a long and interesting story to tell. Founded as the Glebe Mountain Farm ski area in the mid 1960's, the area changed its name to Timber Ridge around 1970. The area originally had a T-bar and then added a double chair in the early 1970's. At one point in the past, a lift line and trail were cut on the skier's right side of the area, but a lift was never installed (see aerial image below). Faced with economic problems, the area closed in 1981. In 1982 the Timber Ridge Associates bought the mountain and reopened it, only to have it closed in 1985. Not out yet, Magic Mountain bought the area in 1986, interconnected it, and renamed it Timberside at Magic. Then, you guessed it, the area closed in 1991 when Magic closed. There are currently no plans to reopen this area.
Full History:
1966
(America's Ski Guide)
Listed as Glebe Mountain Farm.
302' drop, T-bar.
1969-1970
(VT Tramway Report)
Listed as Timber Ridge.
Lifts: One 1465' T-Bar with a capacity of 1200 skiers/hour.
1971 or 1972
(VT Tramway Report)
Timber Ridge significantly expands. It adds a 3891' double chairlift with an hourly capacity of 1000 skiers/hour. This, combined with the T-bar, gives the ski area a capacity of 2200 skiers per hour on an 800 foot drop.
1973
(Ski Guide to the Northeast)
Vertical drop: 800'
Area operates weekends only, ski shop, snack bar, rentals, warming huts, double chair, T-bar. 11 trails, parking for 250 cars. No snowmaking or night skiing. 8 instructors who focus on private instruction. $9.00 adult, $7.00 junior.
1981-1982
(VT Tramway Reports)
Timber Ridge is not listed on these reports. Most likely, the area closed for a few years. The 79/80 ski season was one of the worst, as there was hardly any snow across the Northeast.
1982-1983
(VT Tramway Reports)
Timber Ridge reopens with its original lifts, plus a new 240' Handle Tow with a capacity of 800 skiers/hour.
According to Billy Kidd's' Ski Guide, the longest run is 1.5 miles long.
Update...thanks to a trail map from 1982 provided to NELSAP by David Argueso, a "Southbrook" expansion plan was developed for 1982, leading to the cutting of a liftline trail and another trail. A 3600' t-bar was planned, but never installed.
To view this trail map, click here.
What is so interesting about this map is that it indicates, for the first time, further planned expansion of this ski area. The proposed "North Bowl" area would have been incredibly close to Magic Mountain. This area would be developed slightly, however, once Timber Ridge was integrated into Magic.
1985-1986
(VT Tramway Reports)
Timber Ridge is not listed once again. It likely did not operate this season, confirmed below.


1986-1987
(VT Tramway Reports)
Timber Ridge is not listed again, but this time for a different reason---Magic Mountain bought the mountain and interconnected the two mountains with two trails. The area was now called Timberside at Magic Mountain, and became one of the few lost areas that you could still ski (Carinthia at Mt. Snow being another prime example). The T-bar was not inspected again until 1988, when the T-bar reopened.
Thanks to Andrew Snow, we have this trail map of Magic/Timberside. Timberside is on the left notice the size of it as compared to Magic.
1986
(Ski Vermont! By Jules Older)
In 1986 Magic Mountain purchased Timberline, a defunct private ski area. Through some clever trail building and leasing arrangements, they hooked it onto the Magic Trail system via Magic Pass, a 3/4 mile trail around the ridge. Timberline, renamed Timberside, has its own double chair, base lodge, and T-bar. It offers old fashioned narrow trail skiing, an absence of crowds, and an ambiance all its own. Unfortunately, its rustic atmosphere is somewhat sullied by big outdoor beer and cigarette ads around the base lodge.
1986
(Rutland Herald Article, July 26, 1986, by Annmarie Christensen)
Here's a great article which describes the area's history in.

The President of Magic Mountain Ski Area in Londonderry announce Friday he had purchased the bankrupt Timber Ridge Ski Area on Magic's backside. The combined acreage of the two ski areas totals nearly 1400 acres.
Simon Oren, the president, said both mountains would operate as one unit, and would be the only ski area where an alpine skier could travel up one side of the mountain and down the backside (Jeremy note-you've been able to do that at Cranmore since 1955!)
Timber Ridge lies on the NE face of the present Magic Mountain ski property and less than a 1/2 mile separates the summits of the two ski areas, said Bruce Whitney, Magic Mountain's director of communication and sales.
Oren and his group of investors plans to physically interconnect the two summits. "It puts us in a category of our own," Whitney said.
For a decade, Timber Ridge in the tiny town of Windham had operated as a semi-private club. In 1982 the ski area-plagued with financial problems and closed in the winter of 1981-was bought by Windham Ski Associates, which was composed of homeowners in the area and out of state partners.
However, Windham Ski Associates went bankrupt, and the VT National Bank foreclosed on it in 1985.
"We're not looking at it as a prodigal son," Whitney said. "We're wrapping our arms around it and we'll be as one."
On Friday, Bruce Hashagon, senior vice-president of VT National Bank, said Oren and his group had not yet closed the deal on Timber Ridge but had signed a purchase contract. "They agreed to buy it at a certain price with certain conditions, " he said, but he would not divulge either. He said several other parties were interested, but the bank decided to sign a contract with Oren.
According to Windham Town Clerk Carol Merritt, nothing had been filed in the town office on the sale.
Merritt said that according to the Nov. 5, 1985 judgment order and decree for public sale by the deputy clerk in Windham Superior Court, $608,700 was owed VT National when it foreclosed on Timber Ridge.
Timber Ridge covers nearly 400 acres, and includes three lifts, a lodge, 15 trails and a snowmaking system already in place. The snowmaking system covers fifty percent of the skiing terrain. There are also 45 single family vacation homes that have been built and are inhabited around the Timber Ridge property.
Magic Mountain, which is known for its steep trails, has a 1700 foot vertical drop. Under Oren, the mountain is undergoing major development and renovations. Oren is developing new trails to be added to its 42 already in operation.
"The Mountain is growing quickly and cautiously," Whitney said.
Whitney said he did not know how many employees were hired during the peak winter season because the corporation was still getting its feet on the ground after taking Ownership of Magic Mountain last fall. But with the addition of Timber Ridge, he expected the employment to double.
1991
(VT Tramway Reports)
Hard times fall on Magic Mountain, and the area is forced to close. Timberside and Magic fall into disrepair.
1993
The double chair is removed, and reinstalled at Smuggler's Notch as Mogul Mouse's Magic Mile. So, you can still ride Timber Ridge's old double next time you're at Smuggs!
1990's
(Microsoft Terraserver)
Here's the aerial photo of the ski area. Notice how large it is, with an extensive network of narrow curvy trails and wider lower slopes. Other features have been annotated.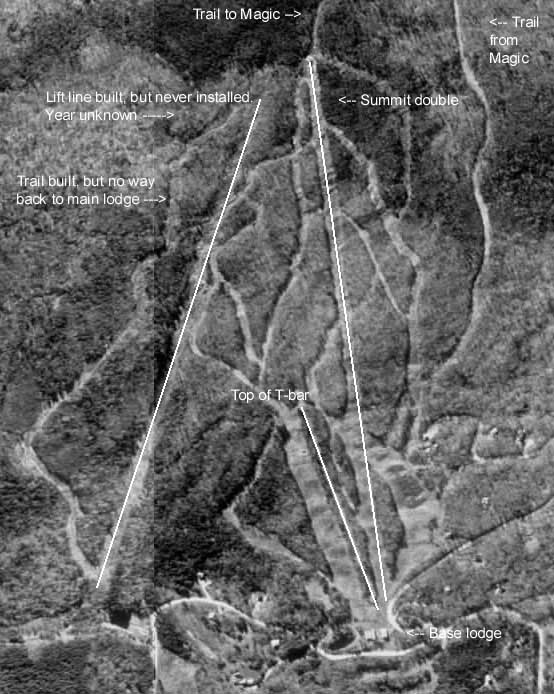 1997-1998
Magic reopens, but Timber Ridge does not. There are currently no plans to reopen the mountain. Magic develops a website at www.magicmtn.com.
1999
(Personal Visit)
The area is really growing in quickly. Here's a photo of the old base lodge (on the right) and the old double engine room (on the left).
Timber Ridge Memories:

BBlair: Glebe Mountain Farm - Timberridge - Timberside - Windham, VT may be on the rebound. It was purchased winter of 2000 and deterioration has been put to a halt and restoration is in progress. The Base Lodge has been restored and a portion is being used for living quarters for an onsite caretaker. Also, trails have been cut in 2002 and the parking area has been cleared. The intention for the area remains silent.

Years back when named Glebe Mountain Farm, there was also a cross country ski area that is about a 1000' feet to the East of the Base Lodge. This area was recently purchased by another party and work has been in progress for the reopening in the near future. Stone walls have been restored and shelters have been built for skiers.
Samantha Austin: My family bought a house in the early 70's in Windham, Vermont on a tiny ski area called Timber Ridge. It was booming up until the early 80's and then the weather changed and there wasn't enough natural snow to keep the place going and not enough water sources or funds to keep the snow making going. People tried and tried to keep the mountain going but in the end it failed. It was a wonderful place to go as a kid. My cousins had a house down the road as well as other family friends so we all skied together every weekend and every school vacation. It was the kind of place where you'd strap on your skis at the house and ski down the road or the trail behind the house and jump on the chairlift - no schlepping equipment, etc. Then we'd all ski home for lunch or, if our parents were feeling generous, we'd buy lunch in the lodge. On weekends they would show movies at the lodge and during spring skiing they would have outdoor barbeques. There was one year that we were still skiing at Easter and my brother dressed up as the Easter Bunny and led an Easter egg hunt on skis for all the little kids. It was a wonderful place and I often wish it were still in business. In fact, it was so safe and inviting that one year Paul Newman and his family came and skied there. His daughter was attending one of the local colleges. That was quite an event!
My family still owns the house on the mountain but there isn't much left of the ski area except the abandoned main lodge, the chairlift and T-bar huts and the huge chairlift poles. We still go to the house and ski at places like Bromley, Stratton and Mt. Snow. We still climb and sled on Timber Ridge and, from time to time, hike up with our snowboards and board down through the fresh powder.
Tab Julius: I also remember Timber Ridge. I lived nearby on Magic Mountain until I was 7, then moved to a nearby town. Timber Ridge was a little spotty in when it was and/or wasn't open, primarily because their snowmaking was limited or non-existent, but the interesting thing that I recall was that it was a private ski mountain. It was members only, but the public could go IF there was room. They guaranteed nothing longer than a 5-minute wait (a big deal back then), and literally would stop ticket sales to the public if attendance exceeded a certain amount, so as to ensure the waits were short. I remember skiing there once or twice - its main claim to fame was that it was a favorite of the actor Paul Newman, who apparently had a condo or home nearby, for when he came up from Connecticut. Because it was a private mountain it often got overlooked or omitted in ski reports. But being private, with guaranteed short lift lines, and being willing to stop the ticket sales were the most interesting things about it (Paul Newman aside).
Thomas: Wow! Back to the late '80's and neon ski wear and equipment (I have a trail map with a guy in head-to-toe lime green on the cover). We skied Timberside at Magic when Magic tried to go big time with that acquisition. It actually had some neat terrain, not too steep, but very rolly-poly. Unfortunately, they never put any money into the area and it never got off the ground. The trail map shows the connecting trail from Magic as being an easy downhill ride. Wrong! It was cross-country for a good portion, but I didn't mind. It would have been nice if it stayed open, but it's tough to compete with the big boys ($). Anyways, it was all great fun back then and it's wonderful to recall those days.
Head back to Lost Vermont Ski Areas