AKA Taconic Trails &
Mt. Raimer
Petersburg, NY
1962-1969, 1972-1980
Check out the NELSAP Trip to Petersburg Pass on April 13, 2002!
History ~ Memories ~ Recent Photos ~ Historical Photos
History
Before I explain the history of this ski area, let me first thank Brian O'Malley for providing us with tons of information and pictures on this former ski area! Much of what we have on this ski area is thanks to him.
| | |
| --- | --- |
| Petersburg Pass, located on the NY/MA border on Rte 2, was founded in 1962 by two executives at the Sprague Electric Co. in North Adams, Mr. Francis Wilson and Gilbert Devy. At first, the area operated with a Poma double chair an just three main trails, visible on the right (picture from Brian O'Malley). Later, a Poma lift was installed on a beginner slope, visible on the lower left of this ski area. | |
The area grew threw the 1960's, adding several more trails and slopes. Although many were beginner-low intermediate, a few, like The Drop, did provide experts with plenty of challenge. Here's the trail map from the 1960's, thanks to Brian O'Malley. The 1400' beginner poma is on the lower left

1. Panorama - Wide and Popular Novice Run
2. West Ridge - Superb Nove Run
3. Berlin - A challenging intermediate area
4. Berlin Corridor - A glade to Panorama
5. Cut Thru - An easy approach to Berlin
6. Zoomer - For the best experts only
7. The Drop - A mile long run, recommended for experts only
8. Deer Hollow - A 300ft wide novice run, groomed for the beginner
9. Twist - Intermediate Run between Berlin Corridor and Cut-Thru
10. Schusskabob Restaurant
11. Parking
The 3000' Poma Double near the summit, from the 1960's. The trail visible to the upper left is the Berlin Corridor.

Picture from Brian O'Malley.
| | |
| --- | --- |
| | Another view of the chairlift, from 1963-1964. Also from Brian O'Malley. |
The ski area was sold in 1967 to a Mr. Deliso, who may have been instrumental in the Greylock Glen ski development in North Adams.

Unfortunately, the good times ended for the ski area in 1969. The area, closed, and remained empty for 3 years. The first base lodge also likely burned sometime around 1970.

However, Mr. Mark Raimer bought the area in 1972, and tried to revitalize the area. A new lodge was built. Pictured here in this picture is the loading area in Dec 1972, as the area reopened.

The area was renamed Taconic Trails, then Mt. Raimer.
| | |
| --- | --- |
| | Trails were constructed towards NY, shown on the lower right of this picture. However, this trails never officially opened, though if they did, the vertical would have increased from near 1000ft to 1600ft! |
| | |
| --- | --- |
| Here's Brian's picture of the base area in the 1970's. | |
The area closed around 1980, due to financial difficulties. The lifts on the property until 1982 or 1983, when Mr. Murdock of Butternut Basin, MA bought both the Poma and Chairlift. He rebuilt the poma and sold it to a ski area in Michigan. However, he kept the double chair and installed it on the beginner section of Butternut. This lift still operates today, so you can still ride a piece of Petersburg today.

(Left - a ski patch from 1967, courtesy of Woody Bousquet)
Graham: Petersburg Pass area is in (surprise ) Petersburg Pass on the south side of Rt.2, north of the Sheep Hill/ Williams area, and may technically be in NY but is no more than a snowball toss from MA. It looks to have a few hundred feet of vertical rise and a base elev. of about 2000 ft. with some decent grade ( at least if you are walking up it). The backcountry skiing opportunities look good for the area, including a network

of forest roads. The downside being that it apparently gets quite a bit of snowmobile traffic. The Taconic Crest trail crosses Rt.2 at Petersburg Pass and roughly follows the ridge, the northern extent of the trail is more tame but has some sidehill logging roads and hiking trails which I have not explored. There is a good map of the area included in the latest edition of the Williams Outing Club guide to the Northern Berkshires, showing both ski areas.

Peter Cohen: I remember that the main chairlift crossed the MA state line (there was definitely a lift tower sign to this effect (Jeremy note-there may have been a sign there, but according to the topo map, the ski area was completely in NY, but barely!)). PP was a great area that we skied numerous times in the 1960s (I grew up in Schenectady). It had some excellent steeps and consistently good snow given the high base elevation. I sometimes telemark on the old slopes as do many others.

John Sober: Hi Jeremy, Thought that I'd drop you a quick note. I am enjoying your web site immensely. I have some history of an area that was technically in both Massachusetts and New York since the area straddled the state line. I was a member of the ski patrol at the mountain from 1976 until 1980 when the mountain closed, never to reopen.

Originally known as Petersburg Pass, it subsequently was referred to as Taconic Trails and finally as Mt Raimer. The ski area was located on Route 2, between Petersburg NY and Williamstown MA. The area was in the process of being enlarged to include the west side of the ridge (an additional approx 1000' of vertical) when the money dried up.

My brother and I have many fond memories of skiing and patrolling at "the mountain" as we referred to it as. Both of us were members of the ski patrol, he, for several years before I joined on.

Paul Grueter: There was a ski area on the NY/MA state line. Called Petersburg Pass. I know it was located on RT. 2. I skied it during the winter of '68-'69. It has been out of business for years but the last time I was over Rt. 2 you could still see some of the trails. Technically I think it is mostly in NY.

David Senus: I donít have enough information on it to help you out a great deal, but this is what I can tell you. It is an abandoned ski area directly on the border of Massachusetts and New York State, right on Route 2. I do not know what state it is officially in, since it literally lies on the border (in fact the parking lot is used as a turn-around for plows, both NY and MA). The parking lot elevation is above 2000 feet with a peak over 2600 feet. It appears that some trails used to extend down the mountain into NY State. It is north facing, toward Vermont, which is only about 3 miles north. The area receives a good amount of natural snow and tends to keep it far longer than the valleys. Most trails are still skiable (I have skied it several times). There are plenty of good views of NY State and MA including the full west side of Mount Greylock.

Steve Skubel: I grew up outside of Albany and skied many of the small areas during the 1960s. I especially loved Petersburg Pass and remember a slogan from one of its brochures or could it have been a radio ad on say, WTRY 980 AM of Troy, touting, "When it rains in the valley it snows up here." We used to laughingly recount this whenever a winter rainstorm would strike while we were up from the valley skiing at Petersburg.

The big contest for my brother and I was to see how many rides we could squeeze in up and down on the chairlift. It seems to me you could easily get in the high twenties or maybe even the 30s or higher without much of an effort. The same was true of Scotch Valley which while a little bigger than I remember Petersburg had a nice homey "family" feel about it.

The Berlin Trail, still clear, though the sides have grown in.
Taken by Jeremy on April 1, 2000.


While hiking in the woods, I managed to find the cement bases of the Poma lift. Look at how high the trees have grown in!
| | |
| --- | --- |
| As stated in the history section, the Poma double still lives on at Butternut. Here's a picture of that chair in mid-March, 2001. Notice though, that the original Poma chairs have been replaced by ones manufactured by Borvig. This lift is significantly shorter than when it operated at Petersburg Pass. | |
| | |
| --- | --- |
| | Here's a view of the area today, thanks to Terraserver. Notice that most of the trails are still fairly clear. Other trails were built (not quite visible on this map) to the lower right of the ski area, but were never open. Had they opened and were served by a lift, this ski area could have had a vertical of 1600' or more, making it one of the largest in the state! |
Additional photos of Petersburg Pass, click on each for the larger version.
| | | | |
| --- | --- | --- | --- |
| A 1963 overhead trail map. | | | A trail map of Petersburg Pass, 1960's. Courtesy Brian O'Malley |

A skier in a gladed section, 1968. Courtesy Brian O'Malley.


The remains of the base lodge, 1983.
Courtesy Brian O'Malley


A view of the parking lot, and base area, winter 2001.
Courtesy Betsy McDonough
From John Sober: I have a high school classmate that I skied with extensively in the middle 60's. He is currently a professor at the University of Regina in Canada. He was going through some paperwork of his Dad's, who passed away several years ago. He found many photographs of ski mountains since he was a professional photographer. I recently received some scans of the photos and know that they were taken at Petersburg Pass in the 60's. Both pictures were taken on Panorama, under the chair. The one photo looks down towards the base and the hill on the other side of Rt 2 is very prominent in the photo. (Photos below).
Do you remember this ski area and want to share your memory? Email us with your comments.
Last updated: September 2, 2014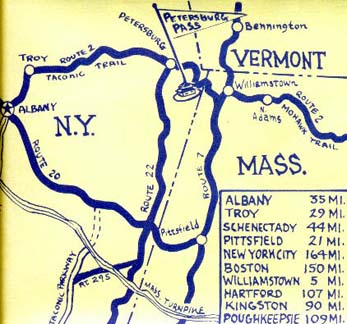 Head back to lost New York ski areas