Bova Slopes
Allegany State Park
Red House, NY
1930's-1970
History ~ Layout ~ By The Year ~ Memories ~ Recent Photos
Bova Slopes (pronounced Bov-ay) was a former ski area that operated in Allegany State Park in Red House, NY. It began as a hike up and ski down area in the late 1930's, as skiing was rapidly becoming a popular sport in New York State. Several slopes and trails were available initially, including the substantial expert run, Spillway.

At some point in the mid-late 1940's, a 1000' rope tow was installed on the main slope, Bova 1. Several more slopes were added, Bova 2 and Bova 3, along with a narrow "Bova Trail". The vertical of the area varies widely depending on the listing but was 250', give or take 20'.Two additional rope tows were then installed by 1950, including a 900' tow, and a 500' portable tow, that mainly served a beginner slope. Rates were inexpensive - 75 cents weekdays and $1.00 weekends!

(Right -a view of the area in late 1940's, showing the main and lengthy rope tow, and the wide, smooth slope of Bova 1. From a Ski New York Guide).
The peak usage for Bova was in the 50's into the early 1960's. By the early 1960's, another area was operating in Allegany State Park, called Big Basin, and several other areas opened up within a 30 minute drive. By 1970 the area had closed, as it had become outdated with its rope tows.

(Left - a closeup of the rope tow from 1951. From the 1952 Ski New York Guide. This slope is likely Bova 2).
| | |
| --- | --- |
| Another shot of Bova Slope # 1, sent to us from Art D. Note the rope tow on the right, and another likely rope tow on the left. | |
Significant remnants still exist of this area, which can be viewed below. The rope tow towers remain, and the slopes are fairly clear.
| | |
| --- | --- |
| The topographic map of the area in the early 1970's. Note how it shows just one rope tow (though there were 3), and the few wide slopes. | |
| | |
| --- | --- |
| | A more recent satellite photo clearly shows the 3 wide slopes, though one could make the argument that there are 4. The location of the Bova trail is unknown. |
Year
Lifts
Trails
Other Info
Source
1939
None
Spillway - 2000' long, 460' drop. Starts on a hill in back of Administration Building. Novice Run - 2200' long. Starts at same point as Spillway. Bova Trail - Cross country trails with flats, drops and rises.
Other trails available too
Skiing in the East: Ski Trails and How to Get There
Late 1940's
1000' tow
See below
Adults: 75 cents, under 16 50 cents, operates daily 1-5pm, weekends 10am-5pm, evenings by group request
Ski New York Map
1949
2 1000' tows, 225' rise. 500' portable tow
See below
Same as above. Canteen at bottom of slopes.
Ski New York Guide
1950
1000' Tow (1350/hr capacity), 900' tow (500/hr capacity), 500' portable tow (360/hr capacity)
Bova No. 1- 1450' long, 283' drop, 200' wide, needs 6" to ski, lighted. Served by tow.
Bova No. 2 - 1000' long, 218' drop, 130' wide, needs 9" to ski. Served by Tow.
Bova No. 3 - 850' long, 204' drop, 130' wide, nees 9" to ski. Served by Tow.
Bova Trail - 1500' long, 260' drop, 20-50' wide, needs 9" to ski, intermediate. Served by tow.
Novice - 2400' long, 350' drop, 12-15' wide, needs 9" to ski. Not served by tow.
Spillway - 2100' long, 465' drop, 12-100' wide, needs 12" to ski, expert. Not served by tow.
30 and 50 meter jumps. Cabins, rooms, dorm accommodations available. Ski shop rents poles, skis, skates, toboggans. Weekly snow report sent each Wednesday during ski season.
Ski New York Guide
1951
Same
Same
Rates: 75 cents weekdays, $1.00 weekends. Operates weekdays 1-5pm, weekends 10am-5pm, evening 7pm-10pm. By group request: 75 cents.
Ski New York Guide
1952
Same
Same
Nothing new to note
Ski New York Guide
1953
Same
Same
Same
Ski New York Guide
1961
Same
Unknown, probably same
$1.00 rates. 100 skiers average weekdays, 300 weekends. Manager: Leigh Batterson. Average snowfall: 36" (sounds low). Season: December - April.
The American Ski Directory
1970
Same
Same
Area closes around this time
Readers
"Belbloom":...After Dad was finished we would ski at the Big Bova area at Allegheny State Park.We always ate dinner at the Castle Restaurant. Theyhad an all you could eat buffet every Friday. Free from my Mother's concerns over table manners the three of us went on a complete gorge!
Gary Anderson:
Bova was near Red House Lake and at one time had three rope tows. One tow to top of each of the two main slopes and a rope toe to the top of a small beginners Hill. The hill had about 225 feet vertical. The hill closed around 1970. It opened up sometime around 1930. I has small warming hut and out houses. However, it was probably the hub of skiing in western NY in 40's - 1960. The train stopped at Red House Station and people stayed at various B&B and at the Parks Dorms at the Administration Building.
Jim Slifka: Around 1993 ago while camping and hiking at Redhouse State Park in Western New York I came across an abandoned (lost) ski area near Redhouse Lake. We camp here about every other year. Last fall I took a few pictures of the slopes and remaining equipment/building. I asked at the park office as to when it was last open. The lady at the park office said that as a kid she skied here in the early 70's and it closed shortly after. On some of my older road maps it is called "Bova ski area". It appears to have about a 250+ vertical drop with about 2 easier and 3 steep slopes and 2 T-bars.
Gary Hendrickson: Bova was a rope tow area that had two tows, warming hut, fairly large parking lot and hosted amateur ski races.

Many thanks to Steve Spiggle, who visited the area in 2004 and took the following excellent photos! For all photos, please click on each to see the larger version.

To the right, the main Bova Slope 1 is still mostly clear, and the the rope tow towers on the right are still standing.
Rope Tow
| | | | |
| --- | --- | --- | --- |
| | | | |
| Closeup of the lower towers. | The tower and cable. | Closeup of wheel. | More rope tow towers. |
| | | |
| --- | --- | --- |
| | | |
| Counterweight. | More of the counterweight. | Terminus of tow. |
Engine for the Rope Tow
| | | |
| --- | --- | --- |
| | | |
| Engine house for the tow. | More of the engine house. | Collapsed engine house. |
| | | |
| --- | --- | --- |
| | | |
| Engine. | Engine house debris. | Foundation for the tow. |
| | | |
| --- | --- | --- |
| | | |
| Top tow building. | Top tow building. | Collapsed top building. |
Top of the Slope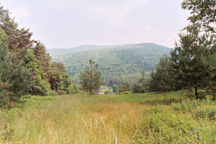 Top of the slope, looking down.
If you have more information on this area just let us know.
Last updated: August 15, 2008
Head back to Lost New York Ski Areas