Schroon Lake Ski Center
Schroon Lake, NY
Original years of operation unknown; reopened 2005!

Open weekend, holidays, school vacations 10am-4pm weather permitting.
The Schroon Lake Ski Center represents an exciting trend we've noticed at NELSAP during the last several years - the reopening of lost areas!
This ski area, located on the municipal golf course in Schroon Lake, operated at some point during the 1970's through the 1980's, with a rope tow, although details are sketchy. The area was abandoned for some time. This area could be Whitney Hill, we're just not sure. We know its not the Schroon Lake Ski Area.

Work was then done on the area during the fall of 2004. The brush was cleared from the slope, the old lift removed, and a new handle tow was installed. Apparently this tow was donated or financed partially from Gore Mountain!


Looking up the reopened and refurbished Schroon Lake Ski Center. Handle tow on the left. Note the water tank halfway up.

Friendly lift operator.

A small base setup was built, including a small wooden "lodge", which is really a semi-portable garage. Several benches and a heater were installed. It is hoped that a more permanent structure can be built.

No snowmaking was installed - there is usually enough snow in Schroon Lake for a small area like this to operate.

The lift is about 800 feet long and has a 150' drop. It serves one open slope - its got just enough pitch to make a few linked turns. Some jumps were also built onto the slope.
| | |
| --- | --- |
| The area opened either the first or second weekend of February, 2005. I was able to ski here on Feb 13, 2005, and found the place to be quite fun. You drive across the golf course to park near the "lodge". I asked the lift operator where to buy the ticket - he laughed, and said "Its free - enjoy!" | Riding the lift. |
| | |
| --- | --- |
| | Great view from the top! In the distance is Schroon Lake and Pharoah Mtn. |
| | |
| --- | --- |
| The handle tow (pony lift) is a bit tough to ride, but not bad. If you ride it right, you can use it like a J-bar, reducing strain on your arms. The ride up is a few minutes, and trip down about 10-20 seconds. You can make a lot of runs, in a couple hours I did about 10 runs, or 1500' vertical. | A view of the base area from the slope. Lift on right, and lodge on the left. |
| | |
| --- | --- |
| Base "lodge" - basically a little area to change and warm up. | If you're looking for a community ski area thats FREE to use - check out Schroon Lake! |
Here's an aerial shot of the area. The area is located at the Golf Course just off the Hoffman Road. You can see the slope, which in this picture (1990') was not in use, and partially overgrown.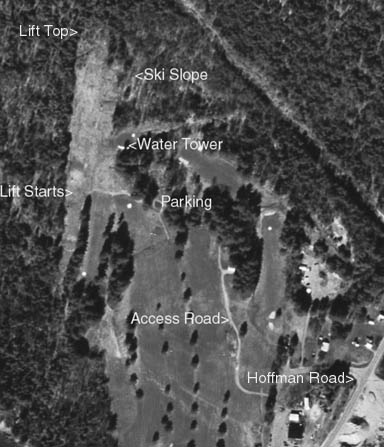 Head back to Lost New York Ski Areas