Ski Land
East Berne, NY
1948-At least 1959
History Listings by The Year Current Pictures
History
Ski Land was a small ski area that opened in East Berne for the 1948-1949 season. It first opened with 2 beginner/practice tows, as well as a 1300' rope tow on a 150' drop. In 1950 or 1951, the owners installed a "Versalift", which we assume to be a homemade version of a J-bar, since later guidebooks mention a J-bar. Needless to say, this area was rare in that it had an overhead cable lift in the early 1950's.

There were 4 main slopes at the area, though there was also a 300' vertical trail that was likely not lift served. There were 2 wide, 1000' long slopes, as well as 2 smaller beginner areas.

Like most ski areas during the 1950's, this one was only open during weekends and holidays. Also, lift tickets remained below $1.75 for the duration of the area.

While it is not known when it closed, the area was in operation until at least 1959. Bob Lange remember skiing there in the early 1960's.


A topo map of the area, showing

An overhead view of the area. Notice that it is basically just one field. You can This picture is from the topo map, rotated 90 degrees counterclockwise.

Bob Lange skied here in the early 1960's, and took the pictures below during the winter of 2002. Here's some more information on this area from him:

The area was called Cole Hill (Skiland), & is located in East Berne, NY. The location is (was) 1/4 mile south of Rte.43, on Cole Hill Road. As I remember, it operated one j-bar during the early 1960's. Power was provided by a truck on blocks (see photos below). The hill is covered with trees now, but at the time of operation was mostly clear.
Year
Lifts
Trails
Other Info
Source
1948-1949
Unknown
Unknown
Area opens
Ski NY Guide
1949-1950
1300' tow (600 per hour), 400' tow (600 per hour), practice tow (1200 per hour)
Same as below, plus trail 1300' long, 300' drop
$1.75 day ticket, $1.25 night ticket, beginner tows $1.25 full day, 75 cents half day. Open 10am-5pm, weekends and holidays. Contact name: E.R. Boynton.
Ski NY Guide
1951
450' tow, 400' beginners tow, 250' tow, and newly developed 1300' Versalift. (not sure exactly what that is...but is likely a J-bar)
Upper Slope - 1000' long, 150' drop, 1500' wide, needs 6" to ski.
Lower Slope - 1000' long, 150' drop, 600' wide, needs 6" to ski
Practice - 300' long, 60' drop, 500' wide, needs 5" to ski, lighted
Beginner's - 700' long, 60' drop, 300' wide, needs 4" to ski, lighted
Located on a paved country road off Rte 43. Heated and lighted shelter, refreshments. Capacity of ski area is 800, with more than 35 acres of open slopes. Contact person: William T. Rauch
Ski NY Guide
Mid 1950's
J-bar lift, two rope tows
4 slopes/3 trails
Located on Cole Hill, 1.5 miles west of E. Berne. Open weekends and holidays. Instruction, rentals. Contact person: William T. Rauch
Ski New York Guide
1958-1959
Same
Same
Night skiing by appointment
Where to Ski in NY State
Current Pictures (taken by Bob Lange)
| | |
| --- | --- |
| A photo of one of the supports for the j-bar cable. The lift line ran up a very steep line of the slope. | |
| | |
| --- | --- |
| | What's left of the truck that acted as the power plant for the j-bar. |
| | |
| --- | --- |
| A shot of the inside of the truck from the above picture. | |
| | |
| --- | --- |
| | A view of the hill as it looks today. |
Another Picture (taken by John Buckley, Winter 2005)
A rope tow tower stands near an operating shack.

For more photos, view John's site here.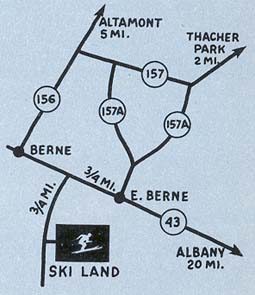 Directions, 1951.
If you have more information on this area just let us know.
Head back to Lost New York Ski Areas