Dynamite Hill
Chestertown, NY
1960's-Present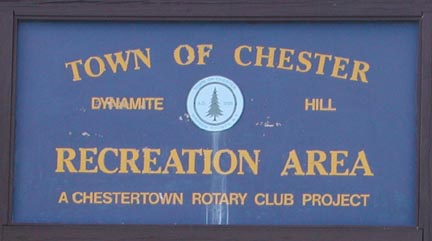 Dynamite Hill is a small (65' drop!) rope tow area that operates in Chestertown just off Rte 8. The area is open weekends and holidays, as well as some nights. Its basically just one intermediate-beginner slope, but does have a few interesting undulations in the terrain. The area is neither upside down nor "normal" - the parking lot and lodge are midway up the slope! The area is operated by volunteers from the Rotary Club. The best part-the skiing is absolutely FREE!

Sledding is also allowed at the margins of the ski area.


Looking up the rope tow slope from the base, Feb 13, 2005.
I skied this area on Feb 13, 2005, and had a great time! I had skied the newly reopened Schroon Lake Ski Center about 20 minutes away earlier in the day.

To the left is a shot of the operator shack for the rope tow, with tow rules posted.
| | |
| --- | --- |
| Riding the rope tow is quite exciting! It goes very fast and you're at the top before you know it. | |
| | |
| --- | --- |
| | Here are some skiers unloading at the top of the lift. |
| | |
| --- | --- |
| Skiers/snowboarders riding the lift. | |
| | |
| --- | --- |
| | Looking down the lift line. |
| | |
| --- | --- |
| Looking down the slope. Snow covered ballfields at upper right. | |
| | |
| --- | --- |
| | The volunteers that day were very friendly and helpful, and told me all about the area. They also gave me a tour of the summit lift building. |
| | |
| --- | --- |
| Inside that building was the ancient engine powering the lift. The building otherwise is fairly new. | |
I first visited the area in August, 2001. Those pictures are below:
| | |
| --- | --- |
| Here's a view looking down the slope, taken in August 2001. You can see a baseball field at the base. | |
| | |
| --- | --- |
| | A closeup of a lift tower. |
| | |
| --- | --- |
| The lift hut at the top of the lift. | |
| | |
| --- | --- |
| | An aerial shot of the area. |
Head back to Lost New York Ski Areas